Something to write home about: Global corporate governance developments. Part 2 – Europe and North America.
More than ever, a one-size-fits-all approach to corporate governance is no longer adequate. Shareholders, customers, employees and the community expect higher standards from business. They want clearer disclosure across a wider range of issues.
Recent changes to corporate governance regulation and guidance across the UK, France and Canada demonstrate this evolving journey.
Part 1 of this article, looking at corporate governance changes in Asia and India, is available here.
United Kingdom
Substantial changes have occurred across the UK corporate governance landscape over the last few months, affecting organisations from large listed companies like major banks to the third sector including charities and not-for-profits.
Updated corporate governance code for listed companies
The Financial Reporting Council (FRC) released an updated UK Corporate Governance Code on 16 July 2018. The new code seeks to lead by example – it's been made shorter and sharper. It focuses on building trust, transparency and greater social responsibility.
Chief among the changes in the new code are:
Emphasis on culture – Boards should create and monitor a corporate culture that aligns values and strategy.
Broader stakeholder relationships – Particularly including stronger workforce engagement by appointing a representative director, establishing an advisory panel, or assigning responsibility to an existing director.
Increased accountability – Shareholder votes of 20% or more against board-endorsed resolutions should be addressed through consultation with shareholders to understand their reasons for the against vote. Companies must also give a public update within six months and summarise in next year's annual report the impact of feedback on the board's decisions.
Greater diversity – Board succession planning should play a stronger role to foster board diversity. Boards must also act to reduce gender pay gaps across the company's workforce. The FRC guidance encourages boards to also consider broader aspects of diversity beyond gender.
Responsible remuneration – Remuneration committees face an expanded role, and new measures aim to align executive pay with long-term sustainable company performance. Significantly, senior executives must now hold share-based remuneration for at least five years.
Director independence – All directors should be subject to annual re-election by shareholders. Explanatory disclosure should be made if the chair serves in the role longer than nine years.
The updated code applies to companies with a premium listing for financial years beginning from 1 January 2019, although the FRC encourages early adoption of key changes.
Revised corporate governance code for small and medium listed companies
The Quoted Companies Alliance (QCA) released an updated corporate governance code on 25 April 2018. The updated code has been streamlined from its previous version with shorter, clearer and more practical guidance.
The changes are designed to help companies listed on the London Stock Exchange's Alternative Investment Market (AIM) meet new corporate governance requirements. From 28 September 2018, all existing companies listed on the AIM must follow a recognised corporate governance code and disclose how they comply with it. Over half of AIM-listed companies currently refer to the QCA code.
The QCA's code is suited to the needs and circumstances of smaller, AIM-listed companies compared to the FRC's UK Corporate Governance Code, which premium-listed companies must follow to comply with the Listing Rules.
The 10 principles in the updated code are grouped under three goals: deliver growth, maintain a dynamic management framework, and build trust.
Proposed corporate governance principles for large private companies
The FRC released a consultation paper on 13 June 2018 on corporate governance by large private companies. The Wates Corporate Governance Principles for Large Private Companies contain six areas that boards of directors should address
Purpose
Composition
Responsibilities
Opportunity and risk
Remuneration
Stakeholders
The voluntary principles have a comply or explain approach with explanatory disclosure to be made in companies' annual director reports. Applying the code is one way large private companies can meet new reporting requirements proposed by the Companies Regulations 2018 (refer below).
The principles are expected to be finalised in December 2018 and apply from 1 January 2019.
Companies (Miscellaneous Reporting) Regulations 2018
Large UK companies face a range of new reporting requirements under draft regulations laid before Parliament on 11 June 2018 including: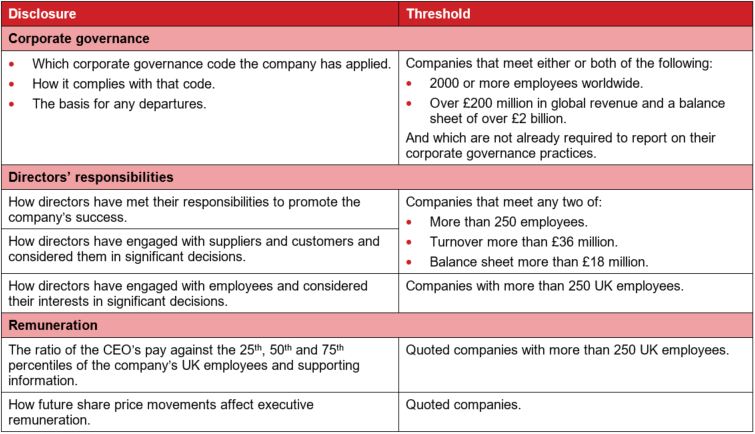 Listing for companies controlled by a foreign country
The Financial Conduct Authority (FCA) introduced rules from 1 July 2018 creating a new category of premium listing for companies that are controlled by sovereign states. This will support the UK's competitiveness as a major financial market and offer the highest level of regulatory protection for investors.
Proposed not-for-profit guidance in Scotland
The Scottish Governance Code for the Third Sector has been created to provide guidance to charities and other not-for-profit organisations. It is based on five principles: organisational purpose, leadership, board behaviour, control and effectiveness.
France
Updated corporate governance code
A revised version of the major French corporate governance code was released on 21 June 2018.
The Afep-Medef code is produced by the French Association of Large Companies (Afep) and the Movement of the Enterprises of France (Medef), which is the country's biggest employer federation. It is aimed at large listed companies (compared to the MiddleNext code which targets smaller listed companies or those with a controlling shareholder).
In keeping with global trends, the key changes to the code concern boards' broader responsibilities beyond maximising shareholder returns:
Role of the board – expanded guidance on the board's responsibilities, specifically on social and environmental considerations as they relate to long-term value creation, opportunities and risks, and the external environment.
Diversity – diversity and non-discrimination policies should be adopted, particularly regarding achieving a balance of men and women in leadership.
Remuneration – executive compensation should improve the company's competitiveness over both the medium and long-term (previously only long-term), including social and environmental responsibilities.
Shareholder access – the chair should be the avenue for shareholder engagement on corporate governance matters.
External monitoring – the High Committee on Corporate Governance monitors companies' approach to complying with the code or explaining any departures. Under the revisions, the Committee has new powers to 'name and shame' companies who do not adequately explain their departures from the code.
Further changes address practices that are already widespread among top French companies, such as employee representation on the board, and focus on environmental and social issues.
Canada
Public company corporate governance legislation
Changes to the Canadian Business Corporations Act (CBCA) were passed on 1 May 2018. The amendments have been in the works since 2016, but many still have a way to go before they take effect, including further regulatory amendments.
The key changes will affect public companies in relation to:
Diversity disclosures – on gender and various minorities, including the number and proportion of their representation and the company's policy on diversity.
Director elections – including voting on director elections to be done individually rather than collectively, requiring majority voting so that directors are not elected when the majority of votes are withheld, and providing greater ability for companies to appoint directors between shareholder meetings.
Shareholder communications – providing greater ability to use electronic communications as the primary mode of engagement.
Toronto Stock Exchange (TSX) disclosure changes
Companies listed on the TSX are now required to disclose additional corporate governance documents on their websites, after changes to the TSX Company Manual took effect on 1 April 2018. This is designed to improve the availability of information to shareholders and the public.
Companies must publish their constitution, board and committee charters, and policies for majority voting on the election of directors and advance notice requirements. Exemptions apply for certain dual listed companies and for non-corporate issuers.
No changes to director independence rules
The Canadian Securities Administrators (CSA) confirmed on 26 July 2018 that no changes will be made to director independence criteria. This followed strong support for the current approach from companies, investors and professional advisers alike in response to the CSA's consultation paper on potential changes.
Diligent offers global corporate governance expertise
Wherever you do business, Diligent is there to provide corporate governance technology that strengthens collaboration, boosts efficiency, and helps manage risk. Our secure solutions are used around the world, with over 12,000 clients across more than 90 countries.
Boards of directors and senior executives rely on Diligent as a key part of their corporate governance framework, including to distribute board reporting, provide private messaging, assist taking meeting minutes, support board evaluation processes, and underpin an integrated approach to compliance across the organisation.
Diligent's Governance Cloud is the only solution that meets the evolving governance needs of leading organisations. To find out more, contact us at info@diligent.com or request a demonstration.
Board Portal Buyer's Guide
With the right Board Portal software, a board can improve corporate governance and efficiency while collaborating in a secure environment. With lots of board portal vendors to choose from, the whitepaper contains the most important questions to ask during your search, divided into five essential categories.