Governance has struggled to keep pace with today's business landscape. The world we live in is switched on, digital and decentralized. Cyberattacks can originate from anywhere in the world, while social media amplifies the voice of every customer and employee. Globalization is introducing layers of regulatory and ethical complexity. In a world where nanoseconds count, old governance practices are not just out of date; They're exposing today's organizations to the kinds of risks that can lead to crises. And there's no shortage of examples these days …
Cyber ​​breaches. Sexual harassment cases. Regulatory mishaps. Flawed corporate cultures. These are the things that are made of. And the next question is always the same: Where the board and leadership team while all this happening?
According to a recent Diligent Institute report , "governance mishaps" are at $ 490 billion in value. Yet, the same report (20%) outperformed the bottom 20% by 17 points or 15% over a two-year period.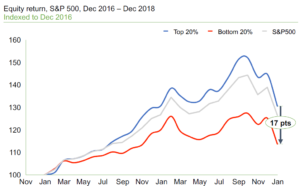 Simply put, good governance is a competitive advantage in today's complex, digital world. And the first step toward modernizing governance frameworks requires clear identification of current deficits.
Acknowledging the Governance Deficit
"Governance is more or less a historical concept, and our current frameworks are backwards-looking at a time when we need them to be forward-thinking."
– Board Member Anastassia Lauterbach on Governance in the Digital Age
Globalization, digitization, connectivity, access-many of these change factors have been received advocements, yet the rate at which they have come into play has left today's organizations with little time to adapt. As a result, today's organizations have been exposed to a dangerous governance deficit, which can take many forms:
Leaders do not have the right information at the right time to ask the right questions.

The board lacks visibility into the company, across the industry, and into the future.

Organizational data and communication systems are disparate and unsecure, hindering collaboration and exposing their users to potential cyber risk.
Core to today's governance deficits are a lacuna of visibility , security and speed . In today's digital age, when they and companies address these deficiencies, they are empowering themselves to make their own decisions.
Defining Modern Governance
Modern governance : (n.) The practice of empowering leaders with the technology, insights and processes required to fuel good governance.
In an effort to bridge the current governance deficits, Diligent is thrilled to launch a new category: modern governance. Enabling this new category, Diligent has launched an integrated offering that puts the necessary tools and intelligence at the fingertips of today's board members and executives.
Modern governance equips boards and company leaders with the information they need. It protects against organization's most important data. It allows transparency and liberates the flow of information. It transforms the board into an engaged partner and a radar on the future. Most importantly, modern governance is a competitive advantage for organizations in a time of enhanced risk and disruption.
What does a modern governance solution look like? Reputation monitoring. Committee-level data. Predictive analytics on shareholder actions. Candidate search. Secure document sharing and collaboration tools throughout an organization. Integrated entity management. All these tools (and more) now seamlessly integrated into Diligent's foundational board management product offering, which is trusted by more companies across the board than any other board service provider.
Every employee, customer, community and shareholder is affected by the way companies govern, good or bad. Given Diligent's customer base-50% of Fortune 1000 companies, 70% of the FTSE 100, and 70% of the ASX 100, customers in 90+ countries around the world recognize our impact in the governance equation. Not only are we equipping today's boards and leaders with the tools they need to thrive, but with the tools they need to do the right thing .
Over the next several weeks and beyond, we'll be exploring the impact of good governance, sharing best practices, and celebrating the companies, board members and professionals who are doing well.
If you're ready to talk to Diligent directly , do not hesitate to drop us a line.
Board Portal Buyer's Guide
With the right Board Portal software, a board can improve corporate governance and efficiency while collaborating in a secure environment. With lots of board portal vendors to choose from, the whitepaper contains the most important questions to ask during your search, divided into five essential categories.