A mark of 30% is rarely considered a passing grade but when you're starting from a low base, it can be a sign of progress. Unfortunately, in the battle for greater gender diversity, progress has recently stalled, and the magical 50% mark remains mired in the distance.
More than a drop in the ocean
Female representation on ASX 200 boards has been gradually moving towards 30%, fuelled by the efforts of the Australian Institute of Company Directors (AICD), as well as organisations such as the 30% Club and Women on Boards.
By the end of last year, the proportion of women on ASX 200 boards was 29.7%, creating an air of optimism that the goal was within easy reach.
But progress stalled for two consecutive quarters in 2019, before falling to 29.5% at the end of September, according to the AICD's quarterly gender diversity progress report.
It attracted a level of interest normally reserved for interest rates and unemployment figures, making headlines across business newspapers and the mainstream media.
The greatest concern was the reduction in the level of women being appointed to new board roles, down from 45% in 2018 to 31.7% in 2019.
A world of diversity
Until recently, the industry has made strong progress. A decade ago, the proportion of women on major listed company boards in Australia was lower than the US and the UK, at a scant 8.7%.
By May 2018, the ASX 100 reached 30% gender diversity on boards, making Australia the first country to reach this milestone in its top 100 companies.
But while our push towards greater gender diversity has stalled, both the UK and the US recently marked major milestones.
The UK's FTSE 350 index reached 30% female representation on boards in October 2019. It reflects a threefold increase in the space of a decade.
Meanwhile, across the Atlantic, every company in the S&P 500 has at least one female director as of July 2019.
On our own shores, in an index with fewer than half the constituents, seven ASX 200 companies still have no women on their boards. Worse, it's an increase from four at the end of 2018.

Gathering momentum or growing stale?
Thirty percent is considered the critical mass for diversity – it reflects a tipping point where representation is genuine rather than tokenistic.
But as the goal moves closer, progress is harder won. Closing the gap can reduce the perceived significance of the issue, and boards are also facing a wave of new governance and business challenges.
In the US, PwC's Annual Corporate Directors Survey found a marked decline in the level of respondents who said gender diversity was 'very important' to their board, falling from 46% in 2018 to 38% in 2019.
Directors were also more frustrated with investors' focus on board diversity with close to two-thirds (63%) saying it was excessive, compared to just over one-third (35%) a year ago.
But despite both these findings and the downturn in female representation on ASX 200 boards, Australian directors' support for gender diversity has never been higher. The most recent AICD Director Sentiment Index found 58% of directors believed their boards were actively seeking to increase gender diversity.
Investors favour diversification
Whether boards like it or not, institutional investors are becoming increasingly vocal supporters of board diversity. With evidence establishing a clear link between diverse boards and superior organisational performance, that's not surprising.
The Australian Council of Superannuation Investors (ACSI) has stated it will vote against director elections and re-elections on all-male boards where there are no firm short-term plans to appoint a woman to the board. This mirrors emerging international practice among major proxy advisers and a number of global fund managers, such as State Street.
Future Super goes significantly further, refusing to invest in companies without women on their boards. The Australian retail superannuation fund actively divests specific investments when change is not forthcoming.
Where to from here?
As 30% targets finally come within reach, the diversity agenda is expanding in all directions:
Upwards, with new and higher targets for female representation.
Downwards, with a push to build the number of non-male CEOs and senior executives.
And outwards, towards other facets of diversity such as ethnicity and age.
Upwards – 30% is just the beginning
The ASX Corporate Governance Council's updated Principles and Recommendations include a new target of 30% board diversity for companies in the ASX 300. This extends the target to a wider group of organisations and gives it the weight of 'if not, why not' reporting.
The Australian Government's target of 40% women on individual boards and 50% women on Government boards overall has been in place since 2016. Organisations across the private, public and non-profit sectors are following suit and setting higher targets.
For example, the Australian Medical Association (AMA) committed earlier in 2019 to a target of 40% women on each of its boards, committees and councils and 50% of federal AMA representative roles by 2021.
Downwards – supporting female leadership
While the number of women on boards has grown significantly over the past decade, the pace of change in the executive suite is much slower.
Just 12 ASX 200 companies (6%) have female CEOs, according to the 2019 Chief Executive Women ASX 200 Senior Executive Census. And just 13% of senior executive line roles – the traditional pathway to CEO appointments – are held by women.
Outwards – a wider perspective on diversity
Gender is only one facet of creating more diverse boardrooms. Research has found an even stronger link between ethnic diversity and higher corporate performance than for gender diversity. But progress towards more culturally diverse boards is significantly lagging.
The absence of firm recommendations and targets beyond gender diversity is one significant contributor. Another is the greater challenge associated with identifying minorities who may be reluctant to self-report.
The proportion of boards actively seeking greater diversity reached an all-time high in the AICD's most recent Director Sentiment Index.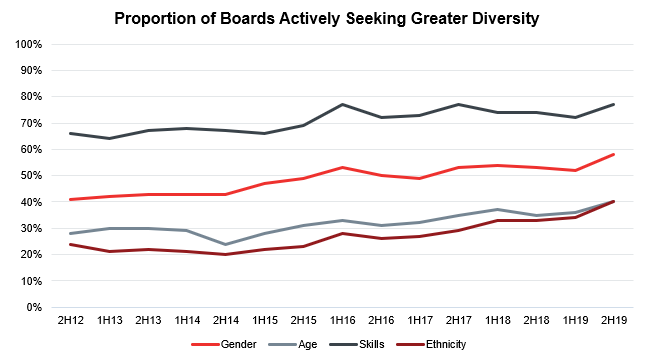 Corporate Australia's move towards greater gender diversity may have recently slowed, but the pace is likely to pick back up again given its proven benefits.
Diligent's board assessment tools help organisations evaluate the capabilities their directors need to support sustained success. It's just one part of the Diligent Governance Cloud, which provides innovative, secure and modern governance solutions for organisations of all kinds. To find out more, contact us at info@diligent.com or request a demonstration.
Board Portal Buyer's Guide
With the right Board Portal software, a board can improve corporate governance and efficiency while collaborating in a secure environment. With lots of board portal vendors to choose from, the whitepaper contains the most important questions to ask during your search, divided into five essential categories.