About:
Launching as a general finance company in 1978, today Credit Corporation (PNG) Limited today operates three divisions which specialise in financial products and services, prime real estate, and investments across five countries.
"Diligent Boards has given us the framework to establish our governance journey. It's easy to implement and use and Diligent Boards is now an important part of our corporate DNA. More recently, we have relied on it to help keep our Directors and Committee Members in touch and maintain our corporate governance and compliance responsibilities throughout the global pandemic."
– Syd Yates, OBE, Group Chairman
Challenge:
Credit Corporation (PNG) Limited is listed on the PNG Stock Exchange and is domiciled in Papua New Guinea. However, its seven-member Board of Directors are located in three different countries and oversee the strategic footprint of the organisation across Papua New Guinea, Fiji, Solomon Islands, Vanuatu and Timor-Leste.
"The Board has already held eight meetings this year to monitor COVID-19 developments closely and measure these against our risk parameters, with only one of those meetings being able to be held face to face,"
outlined Credit Corporation (PNG) Group Chairman, Syd Yates, OBE
Solution:
Diligent Boards was scheduled for implementation by Syd in his role as incoming Chair: "I was already familiar with the benefits of Diligent Boards in my previous role as CEO of Kina Securities Limited and as Managing Director of Kina Asset Management Limited. I am focused on governance and appreciate that the strong framework of Diligent Boards delivers a more efficient and productive outcome for Boards and the executive team." Today Diligent Boards is used for the Board and its sub-committees including Audit; Risk and Compliance; Nominations and Strategy and Investment. It is also being rolled out across all the countries Credit Corporation operates in. Diligent provides ongoing and unlimited training for Diligent Boards for the executive committee and administration staff. Diligent Boards is also being rolled out across all the countries that we operate. "
The return on investment for Diligent Boards is clear. We have ten different companies within our three divisions. We have transitioned from hundreds of pages of printed Board packs to a secure communication platform on an iPad. Diligent Boards helps our Directors and executives find the information they are looking for more easily, and they know this is the correct version they need to be reviewing
," he continued.
Results:
[3 days] time-saving in preparing digital Board packs per meeting
[Per meeting reduction] of 3,500 printed pages, inks and consumables plus power and postage
[100% flexible] allowing Diligent Boards to be used for sub-committees, management training and workshop facilitation
Building a digital meeting roadmap
Before using Diligent Boards, Credit Corporation (PNG) dedicated a Company Secretary a few days per meeting for the hard copy production of Board packs. With each Board pack reaching 500 pages, these meeting packs were scanned and digitally transferred online which did not make allowance for changes or updating of the meeting pack. Changes and additions were added manually, incurring extra time and budget to ensure Board packs were accurate and remained up to date in the lead up to each meeting. Inevitably these delays impacted the delivery of meeting packs to the Board. "
Moving to Diligent Boards in 2019 meant we were saving time and money by moving to a digital system. Crucially we were able to continue our Board and sub-committee meetings as 'business as usual' when COVID-19 restrictions began,
" he said.
Facilitating secure digital collaboration
The Board has benefited from the integration between Diligent Boards and web conference providers to run secure and remote Board meetings. "W
e have seamless connectivity with Diligent Boards. To be able to host virtual confidential meetings via web conference in a secure Board portal helps us maintain our commitment to good governance,
" said Yates. Yates further outlined the benefits of Diligent Boards. "
The ability to have Secure File Sharing is imperative for Boards that may now only be able to operate virtually. You need the tools to evolve best practice compliance standards and being able to prepare for Board meetings is part of that.
" He continued: "
Meeting Minutes & Action Items Management
is another example of how Diligent Boards is automating our Board meetings. There is a technique to harnessing the outcome from virtual meetings; however, Diligent Boards can support the production and distribution of minutes and action items, helping to transform another governance administration touchpoint." The Credit Corporation (PNG) Board also relies on Diligent Messenger to communicate securely in a dedicated channel with Board and committee members.
Adding value in challenging times
Supporting its customers and staff underpins the Board's creation of a COVID-19 Data Book in Diligent Boards. "We have compiled a database for regulatory requirements and ongoing COVID-19 alerts to ensure we provide the right advice and responses our staff and customers need. Housing those papers in a central location helps the Board, our Risk sub-committee and executives understand how we build and store our corporate responses to a global pandemic," concluded Yates.
To find out more about how Diligent Boards and the Governance Cloud can help your organisation, contact us at info@diligent.com or request a demonstration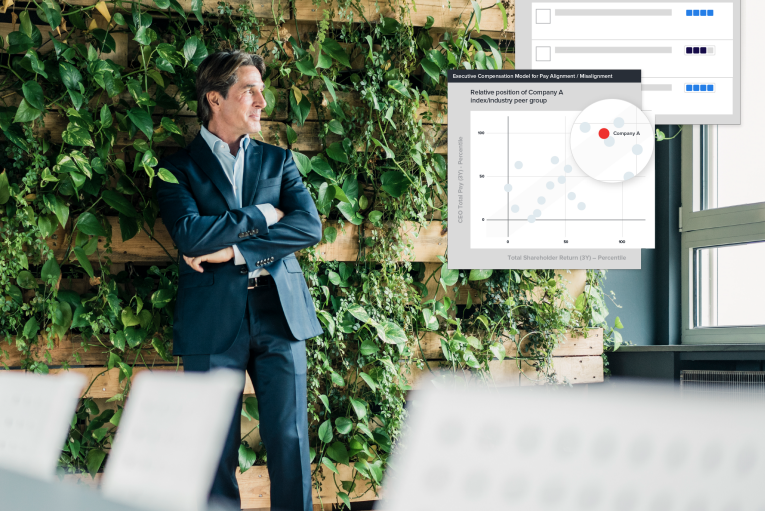 Media Highlights
Environmental, social and governance (ESG) issues have become more complex and multifaceted than ever before. At the same time, ESG continues to ascend on board and leadership agendas.
In this buyer's guide, we explore what a market-leading ESG solution should look like and highlight the key areas organisations should be prioritising as they embark on their search.