How can corporate leaders embrace every facet of diversity, in and out of the boardroom?
Listen to Episode 54
on Apple Podcasts
Guest: Meesha Rosa, Vice President of Corporate Board Services at Catalyst
Hosts: Dottie Schindlinger, Executive Director of the Diligent Institute, and Meghan Day, Senior Director of Board Member Experience for Diligent Corporation
In this episode:
Diving into the Numbers: Rosa gives us a recap of some striking statistics on corporate diversity from Catalyst's longtime reserve of statistics on the subject.
Steps Toward Improvement: Given that rates of inclusion are much higher among white women compared to women of color, Rosa discusses how we can change this trend.
The Effects of 2020: The pandemic disproportionately impacted women, especially women of color, while protests against racial injustice opened the eyes of many to an issue that has existed for centuries. What makes diversity even more important now than it was two years ago?
Summary:
Increasing diversity, equity and inclusion in corporate leadership has been a long-fought uphill battle. In the wake of company commitments, listing requirements and government legislation on the issue, who has benefitted? More importantly, which groups have still been left out and left behind? Hear from Meesha Rosa, Vice President of Corporate Board Services at Catalyst, on how to ensure that a rising tide really does lift all boats.
Diving into the Numbers
Rosa begins by giving some background on Catalyst's data collection surrounding diversity: "Catalyst is known for these counts and data points. Over the years, we've noticed that the pace of change has been stagnant surrounding rates of participating of women of color in corporate leadership." Catalyst has been keeping track of these and other rates of participation for many years: "We started counting back in 1997, and the trajectory has been slow."
The goal of tracking diversity and inclusion rates among women in the workforce is simple: "We want to broaden the story from the metrics, get behind the numbers, and take a different deeper dive." In many places, reporting out on diversity numbers is far from being standardized or required. In many countries, reporting out on racial diversity numbers, for example, is illegal. Catalyst then, works to provide needed information where it is lacking.
And the information they have discovered is striking: "Over the years, women of color making gains has been slow compared to the population and labor force. Women of color are projected to grow 50% by 2060. They are making gains in education, making larger roles in the workforce, and contributing to buying power." She goes on, "But leadership doesn't reflect these advancements. Only about 5% of seats are held by women of color. But WOC will be majority of women in the US by 2060. We need to challenge boards on diversity and inclusion."
Steps Toward Improvement
The first thing needed to change this disparity is intentionality. As Rosa puts it, "We need intentionality around the approaches being taken. If you want to make a serious effort around DEI, you need to set goals first." Leadership is an important aspect of the equation: "Leadership absolutely needs to set the tone from the top down on inclusivity. Companies need to set deliberate and calculated targets around gender race and ethnicity to drive any sort of success. More importantly, we need to do this in a given time period. We need tracking, milestones, and due dates."
Unconscious bias and unnecessary obstacles are another huge barrier for increasing diversity, particularly for women of color. Rosa iterates, "It's also important to remove barriers to entry for women of color in leadership roles, work to eliminate biases, and to recognize unconscious biases in the candidate selection process. These all function as systematic barriers to entry." This all begins by having honest discourse: "You have to have courageous conversations to ensure that they can uncover some of the things excluding women of color from getting critical roles and assignments that propel them towards board and executive leadership."
Looking at the numbers, Rosa hits on another phenomenon limiting women in corporate spaces: "Catalyst has tracked corporate officers for years. If you look at the roles women get, they're largely staff roles, and not the roles that lead to leadership. Many women in the 1980s and 90s were on ramp to the C-Suite but took on other staff roles in HR and communications that can sometimes be off-ramps from the board. We need to get them back on ramp to help build up the pipeline."
"We need to make it everyone's job to sponsor, track, and devote resources to women of color. Everyone from the top down needs to be responsible for retention and development."

–Meesha Rosa, Vice President of Corporate Board Services at Catalyst
The Effects of 2020
Rosa underscores the sense of urgency as we come out of the pandemic: "It is important for companies and boards coming out of the pandemic to pull wisdom together to make responsible and difficult decisions. This is impacting working women of color and women in general. We face complexities around childcare, safety, and in general the future of work." She poses a culminating thought:
"What better way for boards to grapple with this than to ensure we have the right people and perspectives in the room to push for the right conversations, strategy, goals to sustain our economy?"
She goes on, "Not everyone in the boardroom right now can answer the huge, existential questions being posed. Companies are being challenged to build out a board with the right expertise for long term success and sustainability, ESG, DEI, CSR, and managing the future of work. Unless we have the expertise in the room to ask those questions, that board can't meet the expectations being put on them."
Once these diverse candidates are in the boardroom, Rosa emphasizes the inclusion portion of the equation: "We need to move beyond a check-the-box approach. Boards can and should reflect consumer makeup and the demographics you serve. It's about the skills, the intersectionality and also about the perspective. In the U.S., demographics are shifting rapidly, and boards have to catch up."
"Boards are dealing with challenging decisions. Unless you have the right perspectives in the boardroom, companies won't be able to meet rising expectations and increasing pressures."

–Meesha Rosa, Vice President of Corporate Board Services at Catalyst
Also in this episode…
Rosa gives her prediction for what boards will look like in the future: "Companies and boards that accept and fully embrace diversity and inclusion will be at a lower risk to fail. They understand reflecting and responding to social shake-ups. They won't fall behind and stall on their corporate and global growth."
Resources from this episode: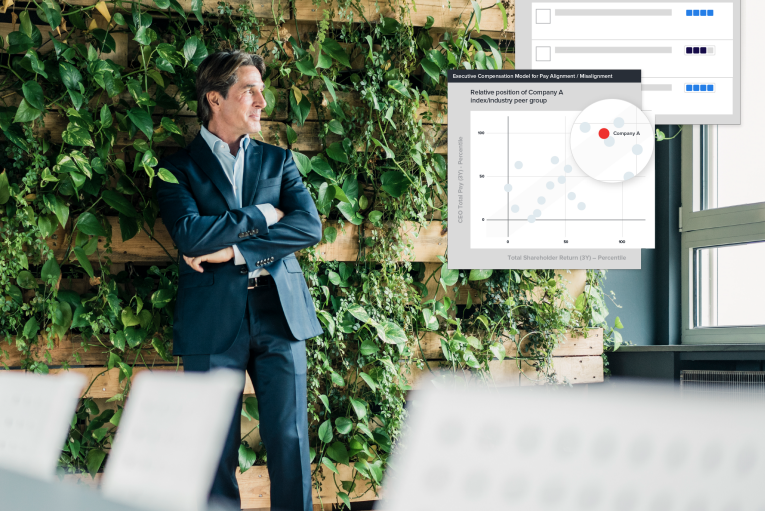 Media Highlights
Environmental, social and governance (ESG) issues have become more complex and multifaceted than ever before. At the same time, ESG continues to ascend on board and leadership agendas.
In this buyer's guide, we explore what a market-leading ESG solution should look like and highlight the key areas organisations should be prioritising as they embark on their search.