Listen to Episode 42 on Apple Podcasts
Guests: Felicity Hassan, Managing Director, Audeliss
Hosts: Dottie Schindlinger, Executive Director of the Diligent Institute, and Meghan Day, Senior Director of Board Member Experience for Diligent Corporation
In this episode:
Has 2020 moved the needle on diversity? While remote work has "opened the aperture," too many companies are relying on familiar networks and skill sets, Hassan says.
Established pipelines and perceived risk are holding companies back. According to Hassan, "There's plenty of fantastic, incredible, diverse talent out there," and tools like a skills matrix and gap assessment can help you bring this talent to your board.
Where do next steps lie—with recruiters, companies, or both? Both are equally responsible for driving toward diversity and representation goals, says Hassan.
Summary
Audeliss is an executive search firm dedicated to leveling up opportunities for women, LGBT+ candidates, and people of color. The company uses market intelligence, proactive talent pipelining, and a new perspective to help boards create a candidate profile for their next director then find the right fit.
"We're dedicated to widening the gate rather than lowering the bar," says Audeliss Managing Director Felicity Hassan.
In this episode, podcast co-host Meghan Day talks to Hassan about the status of diversity in executive leadership today—and where it needs to go.
Has 2020 moved the needle on diversity in recruiting?
"With everything that's happened in 2020, are companies more intentional about diversity in recruiting?" Day asks of Hassan.
Hassan notes significant progress with frustrations along the way. On one hand, COVID-19 lockdowns and social distancing have shown companies that productive remote work is possible and really opened up the aperture as to candidates, particularly workers in different geographies, caregivers who need more flexibility, and people with disabilities who might have difficulty working onsite.
"Going through the COVID-19 pandemic has become a learning experience for boards and management."
– Felicity Hassan, Managing Director, Audeliss
On the other hand, she says, many companies have continued to restrict their searches to candidates, sources, and resources they already know. "I completely understand that perspective, but that is not going to be the vision of the boardroom going forward," she says.
Every company today, Hassan explains, from major public organizations to the local coffee shop, is going through some form of transformational change. Such transformation is spurring the need for new types of expertise at the leadership level—in marketing, communications, HR, and technology innovations like blockchain.
This means the boardroom of the future will by necessity include a much more representative group of individuals from backgrounds that reflect a company's business who can deliver broader guidance.
"If your boardroom doesn't reflect that ability to be agile and address new digital concepts, technologies, directions, markets, motivations, and generations of people that might be purchasing your product or interested in your service," she says, "if your board doesn't like that or necessarily appreciate those changes, then you probably will be left behind."
Established pipelines and perceived risk are holding companies back.
"One of the things that really drives me bananas is this idea that diversity is a pipeline problem," Day remarks.
Hassan agrees, particularly when pipeline perceptions relate to perceived risk. "There are plenty of Black, Hispanic, Latinx, LGBT+, and disability candidates and women candidates who all came from Harvard or McKinsey and could probably transition into a CEO role," she says. "This is not a high-risk network of individuals."
This is a "classic chicken–and–egg situation," she explains. "Did everyone on your board have previous public board experience? I'm assuming no, because nobody was born on a board. Everyone had to gain experience somewhere."
For finding the diverse candidates that meet your board and company's needs, a skills matrix and gap assessment can help, she says.
"There's plenty of fantastic, incredible, diverse talent out there in the market if you're so inclined to look for it."
– Felicity Hassan, Managing Director, Audeliss
Where do next steps lie—with recruiters, companies, or both?
According to Hassan, both organizations and recruiters are equally accountable for driving toward representation goals—and both have work to do."I think for too long search firms and recruiters have focused on managing expectations down," she says. "For example, if an organization comes to me and says they want a diverse candidate, and I go back to them and say there's a shortage of supply, don't have high expectations. they feel happy because they've asked the question and I feel happy because I've managed those expectations. Then if we subsequently hire a straight white guy everyone's OK with that. That's not acceptable anymore."
"Organizations need to be much more thoughtful about the direction they're taking, and recruiters have to work harder to find solutions rather than going down the path well-traveled."
– Felicity Hassan, Managing Director, Audeliss
Listen to Episode 42 on Apple Podcasts
Also in this episode . . .
Hassan talks about the Women Business Collaborative, whose board she joined this summer, and the role of privilege in recruiting.
"Privilege is not a dirty word," she says, "but we do need to understand and adjust our behaviors in the context of the recruiting process." This involves asking ourselves questions like: "Have I always favored a certain group of individuals?" If yes, "okay, how do I address this and make sure that I open the aperture to people with different experiences?" Doing so can bring a more innovative perspective to an organization and open new revenue streams and markets.
Resources in this episode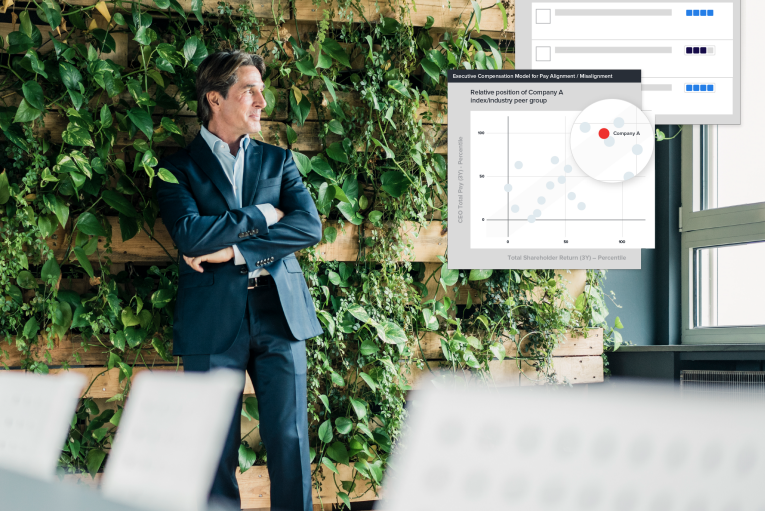 Media Highlights
Environmental, social and governance (ESG) issues have become more complex and multifaceted than ever before. At the same time, ESG continues to ascend on board and leadership agendas.
In this buyer's guide, we explore what a market-leading ESG solution should look like and highlight the key areas organisations should be prioritising as they embark on their search.