This blog is an excerpt from The Corporate Director Podcast, where we interviewed Pamela Coles, the chief governance officer and company secretary of Rolls Royce Holdings. She's also a non executive director on the board of E-Act, an educational organization in the UK.
Insights are the lifeblood of directors. With today's increasingly rapid flow of information, directors want more data and more research, and they need it faster.
When it comes to internal communication, clarity and transparency are key.
We recently sat down with Pamela Coles, a longtime governance professional and currently company secretary of Rolls Royce PLC, to discuss how Rolls Royce is putting into practice some great ideas to drive transparency, information sharing, and a robust organizational culture.
Too Much Information?
It's not easy to communicate the right level of information consistently, across all topics, and at the right time.
The company secretary plays an incredibly important role in overseeing what and how information is delivered to the board–not too much, not too little, but just right.
Rolls Royce is an engineering heritage organization. Filled with engineers. Who love detail. But detail and information aren't the same thing.
"It's much harder to write a succinct couple of pages that give you the relevant detail than to write much longer, more detailed papers." – Pamela Coles
"We have spent the last two or three years trying to come up with basic templates that are not too constricting," she said.
Coles explained that if the template is too narrow, there won't be enough information shared, but if it's too broad, the engineers could get carried away.
These reports are about two pages long, with more detail in the back. "No one template works for every organization," Coles said. It's dependent on what your organization and what your board want.
Keeping Information Flowing
A company secretary needs to keep the lines of information flowing from the board to the committees to the executive team and back again–all year long.
Aside from regular reports, you need to have a really structured time frame during actual meetings, Coles said.
"Everyone in the company actually wants the same thing, but they use very different language. It's all about communication and language, and it's not actually about the difference in purpose." – Pamela Coles
To facilitate communication among so many parties, Coles uses Diligent. "We've completely reorganized. We have reading rooms and resource centers and libraries," she said.
This helps strategy teams internationally share product updates, for example, or aerospace research. "If I think that will be a real interest to the board, we will put those sorts of management papers on Diligent," Coles said, and flag the board of its availability.
"If you just make things available, not everybody has to read them," she explained. "If it's something that's really important, then we'll share it on the main board portal and say, 'This is critical.'"
Board Member Boundaries
When it comes to increasing transparency between the board and management, some companies are concerned with board members overstepping their boundaries to get information. But as Coles points out, a lot of the board's activity is already made available to people outside the boardroom itself. "It'll become even more so in the moment you make a decision. It'll be out there on social media," Coles observed.
"We're a quite transparent and open organization," Coles said. "We let the board members have access wherever they like. We find that they don't abuse that."
"I've been a company secretary for 30 years and it's about the most engaged board that I've come across," she said.
In terms of ongoing education of the board, Coles arranges site visits, training, and a thorough induction program. "We find that the induction program really never ends," she added, because board members find so much they are interested in.
"We trust our people, and we find that transparency works either way." – Pamela Coles
The Other Side of the Table
In addition to being a company secretary, Coles is also a non executive director of E-Act. "You really learn a lot," she said, being on the other side of the table.
You have different outlooks on what matters and you have the insight to ask more pointed questions of the executive team. "That different perspective helps both in my role as a non exec but also back in my role as company secretary," Coles said.
"You don't always realize what you're picking up when you're sitting around the board table for that many years," she added.
Lately at work, Coles has been thinking a lot about decision-making.
How do we make decisions?
Who actually makes the decisions?
How do you empower decision makers?
How do you give them freedom?
How do you make them accountable?
In Coles' experience, bringing together transparency, communication, reasonable boundaries, and information sharing facilitates the best of all possible outcomes.
This post is based on Episode 5 of The Corporate Director Podcast, hosted by Dottie Schindlinger and Meghan Day, with special guest Pamela Coles.
To hear this episode, and many more like it, subscribe to the podcast here. If you don't use iTunes, listen here.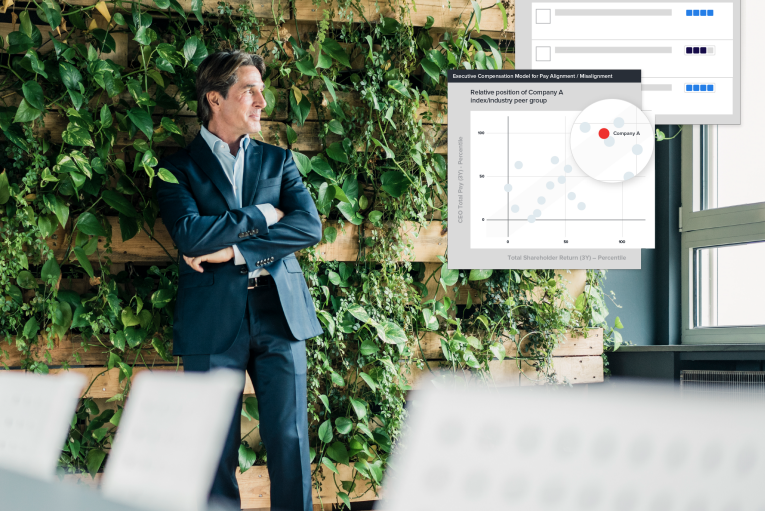 Media Highlights
Environmental, social and governance (ESG) issues have become more complex and multifaceted than ever before. At the same time, ESG continues to ascend on board and leadership agendas.
In this buyer's guide, we explore what a market-leading ESG solution should look like and highlight the key areas organisations should be prioritising as they embark on their search.