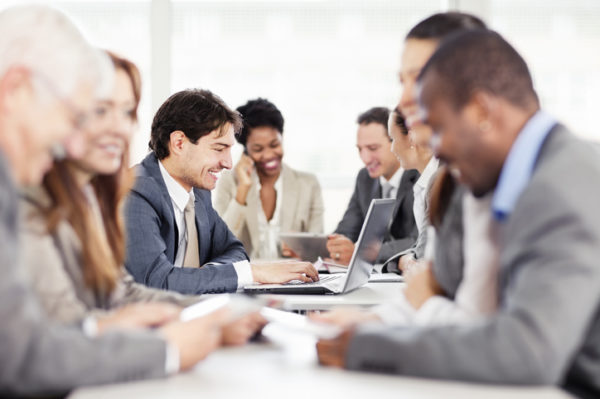 Are UK Boards Becoming More Diverse?
Corporate governance experts strongly recommend greater board diversity on corporate boards, so it is good to see that UK companies are improving in this respect. There is ample evidence that boardroom diversity drives better board performance.
In 2017, the UK government-sponsored Parker Review first highlighted the lack of ethnic diversity on UK boards, and showed how and why diverse boards perform better. At about the same time, the Hampton-Alexander Review made the same case for gender diversity on British boards of directors.
So it is disappointing to learn that, in 2019, the number of FTSE 100 company directors from ethnic minority backgrounds has declined – such is the conclusion of a 2019 report. In the past year, just 84 of the 1,048 director positions in the 100 biggest companies on the London Stock Exchange were held by a business leader from an ethnic minority, down from 85 last year.
Similarly, while the number of women on UK boards has increased, the relative number is still small, and there are still too many all-male boards, the research firm Catalyst reports.
Board Diversity Drives Board Performance
"Many business leaders would agree that Boards that embrace gender and ethnic diversity benefit in their decision making, by drawing on an array of skills, experience and diverse views. We hope the recommendations made for consultation, will heighten awareness of the growing pool of talent in the ethnic community, and help to strengthen boardrooms across the UK and keep corporate Britain at the forefront of global business," comments Sir John Parker, who headed up the review that bears his name.
There is ample evidence that boardroom diversity drives better board performance.
A 2018 study by McKinsey, for example, found:
"In the United Kingdom, greater gender diversity on the senior-executive team corresponded to the highest performance uplift in our data set: for every 10 per cent increase in gender diversity, EBIT rose by 3.5 per cent."
The Link Between Board Diversity and Performance
There could be no clearer link between board diversity and performance. What's more:
"Companies in the bottom quartile both for gender and for ethnicity and race are statistically less likely to achieve above-average financial returns than the average companies in the data set (that is, bottom-quartile companies are lagging rather than merely not leading)," McKinsey adds.
And there is an important nuance: In the UK, the relationship between gender diversity and performance is much more apparent and powerful. The correlated benefit is an increase of 3.5 per cent in EBIT for every 10 per cent increase in gender diversity in the senior executive team (and 1.4 per cent for the board). That is, UK companies experience more than ten times the impact for their efforts in gender diversity than US companies do.
The study points out that this correlation is statistically significant. It indicates that companies that commit to diverse leadership are more successful. The existence of the relationship is statistically significant and consistently present in the data, according to the study.
Board diversity is well-established on the boardroom agenda – but many boards are still far from diverse.
Read our report: 'The Path to Board Diversity' from Board Agenda and Diligent.
Why Do Diverse Boards of Directors Perform Better?
We've seen that diverse boards of directors perform better. The question is why? The reasons include:
Stronger market orientation;
Global markets have become far more diverse – in terms of geography, ethnic composition, and class and age demographics. A board that reflects this kind of diversity is bound to get a better sense of the markets it seeks to reach. Doing business in Africa is still not much like operating in Scandinavia, and if board members don't understand this, the company's strategy will be weak, with the direst consequences.
The creation of a dynamic and diverse board fosters an environment in which a much more profound exchange of ideas takes place. Where board members come from different backgrounds, where they have different skill sets, where they are both from different parts of the UK and from different countries, where they speak different languages – all of this adds up to a broader and more useful perspective for the board as a whole. Boards should always have dissenting opinions – dissent creates depth. Successful collaboration requires the productive expression of dissenting or differing viewpoints. In other words, diverse opinions make creative, generative, inclusive solutions possible, when the group is able to hear and process them effectively.
Advantages in recruiting the best talent
McKinsey reports that, in a survey of 2,700 companies, only 31 per cent believed they
were doing a good job in recruiting and retaining the talent they needed. Boards are struggling to expand the skill sets of directors, as recruiting board members from outside the immediate network of the current directors has proven a severe challenge. Boards need to learn to cast the net wider to fill the key gaps in the board matrix. By broadening the search to new geographies, new types of executives and, of course, women and minorities, boards have a much greater chance of discovering the talents they need.
Diligent Governance Cloud Helps To Build Diverse and High-Performing Boards
Modern Governance tools, like an application that searches for and evaluates potential board members, are part of Diligents Governance Cloud. The Diligent Governance Cloud includes a board member search application that scans thousands of potential candidates around the world and enables deep background searches to ensure that the best candidates for the board emerge.
With so much at stake and so much to oversee, boards need the assistance of board software to help them address the issue of improving governance practices. Diligent Boards and the integrated suite of governance tools in Governance Cloud is the perfect solution for boards working on their governance models.
Governance Cloud boasts high-level security in each of its programmes, including the board portal, secure messaging, minutes software, board evaluations, conflict-of-interest forms and entity management software. Having a fully integrated modern governance software will aid board directors in developing governance frameworks that work for the benefit of the board, the managers, shareholders and stakeholders.
As organisations grow more complex and regulations more stringent, the scope of governance responsibilities evolves. The Governance Cloud allows boards of directors to meet the demands in the boardroom and beyond with the ability to select the products they need that help them perform their best and work within their allotted budgets.
Board Portal Buyer's Guide
With the right Board Portal software, a board can improve corporate governance and efficiency while collaborating in a secure environment. With lots of board portal vendors to choose from, the whitepaper contains the most important questions to ask during your search, divided into five essential categories.