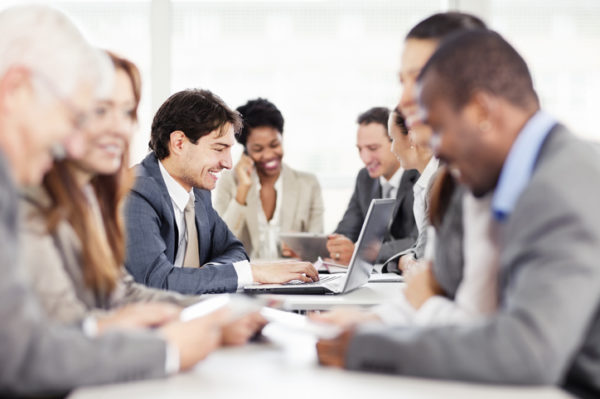 Modern Governance and Board Performance Evaluation
Good corporate governance requires effective boards and to evaluate their performance and appraise directors at least once a year. In the UK, board performance evaluation has become prolific. What has not become generalised is the quality of these board evaluations, which varies wildly from company to company. The increasing reliance on board management software with board performance evaluation tools is changing this, but the change to modern governance is slow.
The vast majority of listed companies comply with the UK Corporate Governance Code recommendation to conduct an annual board evaluation and to use an external facilitator at least once every three years, according to consultant Spencer Stuart's 2018 Board Index. This movement has been driven by changes to the UK Corporate Governance Code which mandate these evaluations annually, as well as an external evaluation once every three years.
In 2018, 56 per cent of boards conducted an internal evaluation and 42.7 per cent conducted an external evaluation. NMC Health and TUI are the only companies that did not conduct an evaluation. Seven companies conducted an internal evaluation with a third party assisting in the process, bringing up to 47.3 per cent the overall proportion of external firms used in evaluations in 2017, the Board Index notes.
"But despite their growing adoption in the UK, board assessments are falling short of their promise of enhancing board effectiveness in some cases. UK boards that take a compliance-oriented approach — or structure the process in a way that prevents a true examination of the impediments to board effectiveness — lose the opportunity to gain valuable shared insight into the operation of the board and ways to improve its composition, processes and relationships," Spencer Stuart warns.
The UK Financial Reporting Council, which publishes the Corporate Governance Code, noted in its annual review that too few companies are providing information about board evaluations in their reporting. The FRC would like to see more detail on the nature of evaluations, their findings and follow-up actions.
Board of Directors Performance
From the point of view of corporate governance, it is essential for an organisation to ensure that the dynamics of a board of directors is healthy – that is, each director contributes on an individual basis, as a team member and as a member of committees. Reporting on board evaluations should show what the board is doing well and less well, what individual directors performance are contributing, and how individuals may contribute more.
Board Assessment Tools Facilitate Individual Board Member Evaluations
A recent study of directors at board meetings provides clear evidence of why individual board member evaluations are critical to assessing board performance. The study notes the prevalence of some director behaviours that impede successful conduct of board meetings: "44 per cent of directors surveyed agree that members of their boards cross the line between oversight and actively trying to manage the company;  39 per cent say that board members derail the conversation by introducing items that are off topic; 35 per cent that board members are distracted by technology or take calls during meetings; and 25 per cent that board members are unprepared for meetings. A full 74 per cent of directors surveyed agree that board members allow, presumably inappropriately, personal or past experience to dominate their perspectives."
So, a vast number of boards show poor dynamics, but none of this makes its way into the board evaluation.
This is because evaluating the performance of an individual director requires care in design and sensitivity in implementation. This is where board management software can play a key role: creating a confidential environment for one-on-one interviews between the chair and individual directors, or between directors, or between directors and management.
Board assessment tools help focus on the issues that are priorities among the board members, as well as to align those priorities with the expectations that are set up by the company's mission statement, and by governance best practices.
All of the results of this data gathering can be analysed easily and with a high level of accuracy by the assessment tool.
Board Chair Performance Evaluation Tools
A most sensitive topic is the evaluation of the chair. Even a good leader always has to make difficult decisions, some of which invariably lead to resentment or disaffection among board members.
So, it is difficult to balance board member assessments of the chair with that of management and that of the individual.
Here again, board management software and board chair performance tools can smooth out the process, taking the relevant issues from all evaluations, analysing them in terms of specific benchmarks, and allowing the entire board to share in a balanced view of the chair's performance.
Independent Board Evaluation Tools
There are also issues to be considered when the evaluation is managed by an external, third-party consultant.
Certainly, there are advantages in this approach:
"Engaging an external independent expert or consultant or advisor to facilitate the board evaluation process means that the evaluation process becomes more independent and transparent," writes Deloitte.
The disadvantages and challenges are also considerable. An external evaluator can't know much about the dynamics of the board, how effective individual strategy decisions have been, individual contributions from directors, etc. Certainly, the evaluator will ask about all of these things, but the process of asking specific questions already delimits, to some extent, the nature of the answers. Here, again, the support of board management software can be decisive. First by creating a viable framework for analysis, then by collecting and analysing data, the assessment tool can fill all the requisite gaps for an external evaluator, and ensure that the evaluation is efficient and pertinent.
Diligent's Board Assessment Tool – The Cutting Edge of Modern Governance
The Diligent Board Assessment tool offers many valuable features, such as:
Setting up various types of questions
Monitoring submissions
Automatically reporting
Customising reports
Adding graphics
Diligent's board evaluation tool supports the complete evaluation process. As a critical part of the Governance Cloud ecosystem, Diligent Board Evaluations tool simplifies board performance analysis with easy assessment questionnaire creation, analysis and report generation. Governance Cloud is Diligent's ecosystem of cloud-based governance tools that provides a complete solution to enable the leading bodies of organisations to mitigate risk and to govern collectively at the highest level.
The assessment tool includes powerful assessment creation tools with multiple question types, an intuitive board evaluation questionnaire creation interface with innovative solutions for glossaries and supplemental information, and e-signature sign-off. It provides safe, secure recordkeeping – users can view past evaluation results with just a few clicks. They can also enjoy bulletproof board security with the highest levels of threat protection and encryption.
Directors can complete important compliance tasks through the familiar Diligent's board papers software interface. There is no new software or workflows to download or learn.
And there is seamless integration with other board management software. Directors can complete and e-sign assessments from anywhere, via PC, iPad, Windows 10 tablet or the Web.
There is also 24/7/365 white-glove support for the immediate resolution of any issues. And full Diligent Boards integration enables directors to complete compliance tasks quickly and easily.
 WANT TO LEARN MORE?
Learn how your board can improve their governance and rely on Diligent's dedication to customer performance. Request a demo today
Board Portal Buyer's Guide
With the right Board Portal software, a board can improve corporate governance and efficiency while collaborating in a secure environment. With lots of board portal vendors to choose from, the whitepaper contains the most important questions to ask during your search, divided into five essential categories.