Getting maximum value and improving board engagement is an increasing priority for today's CEOs. The past decade has seen a shift from boards being viewed as primarily involved in issues of governance and stewardship to an understanding that boards should be strongly engaged with the organisation and leveraged to add value. As board consulting specialists Egon Zehnder remark: "In today's complex environment, it is not enough for boards to be stewards; they, like management, need to create value."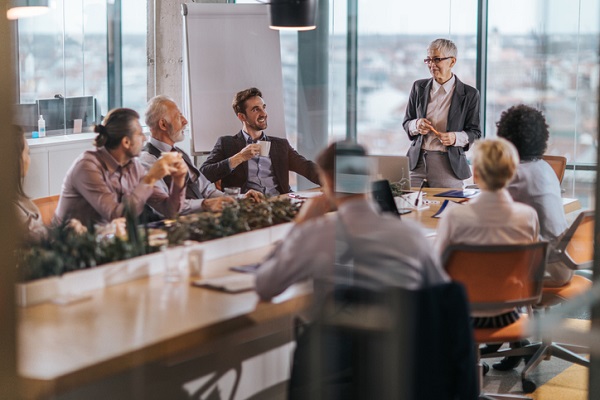 Why does board engagement matter?
An engaged board is an impactful board. Research from McKinsey found that directors of high-impact boards spend an average of 40 days per annum discharging their duties; for boards that have only low impact, the figure is just 19 days. Clearly, those high-impact boards are more closely engaged and willing to devote more time to successful value creation. But it's not enough simply to demand more time from directors; they have to want to contribute beyond the minimum. Developing and nurturing board engagement can be difficult and the lack of it is one of the most frequent complaints from both CEOs and boards themselves. Here are five rules for board engagement that will contribute towards unlocking that strategic value.
1. Set the tone from the start – outstanding onboarding
A new board appointment is a critical event and the onboarding process can set the tone for the entire relationship. This is the time to set expectations and clarify the roles and responsibilities that the director will be expected to fulfil.
Ensure that the new board member is briefed and has access to all of the information they need to get a clear picture of the organisation and understand how it creates value – after all, the board is the custodian of the value creation process, and it can only achieve this through a solid understanding of the status quo. It's also valuable to get the new appointee's first impressions and outside perspective of the company; fresh eyes often see more clearly and, if your new director is going to become as closely engaged as you hope they are, this will be the last chance to gain that outsider viewpoint.
When inducting a new director, it's useful to take the opportunity to engage with existing board members to seek their input to the orientation process to make it more effective each time. What do they wish they had known from the outset? Depending on the personalities and skill sets involved, it might be appropriate to consider 'buddying up' your new appointee with a more senior board member with complementary experience and skillsets.
Don't forget the practicalities: The new appointee should be furnished with a clear understanding of the cadence of board activities – When does the board meet? What materials will the director receive prior to meetings and through what channels? What systems are in place to support them? Ensure that the new appointee is comfortable with how the company communicates and who their key points of contact are for questions and clarifications.
2. Clear and concise communication
One of the most important aspects of board engagement – and one of the hardest to get right – is communication. Indeed, a study by Stanford School of Business found that board relationships and engagement was rated as the number one weakness in CEOs, and as commentator Stephen Miles of The Miles Group explains: "This serious disconnect between management and the boardroom has multiple negative ramifications. Board engagement is absolutely vital to the function of the CEO – and to the health of a company. How can the board understand what's going on in the company if the CEO is not engaging?
The style and substance of communication from the company and CEO to its board can be a powerful engaging force if it is done on a regular and relevant basis. The CEO should take the opportunity to bring the corporation to life for the board, looking outside the financials to share stories of success, employee achievements and company initiatives. Nonprofit leadership expert Joan Garry calls this the "goosebump a week" strategy, giving board directors stories about the organisation to share with their peer group, and incidentally helping them to become engaged ambassadors. Whether corporate or nonprofit, the same principle applies: Giving board directors a peek under the skin of the company gives them an insight into its personality, people, culture and mission – informed is engaged in this sense.
Another aspect of good communication is ensuring that board directors have access to the relevant information to advise and guide the business. Make sure they know how to find what they need, whom to contact and that they are comfortable with those relationships. Linked to this is offering opportunities for board members to liaise with staff through activities such as site visits. Members of relevant committees should be expected to get their feet on the ground and to gain valuable context and insight to inform their counsel and strategic input.
3. Respect time pressures – help the board work smarter
It's so easy, these days, to bombard people with too much information and it's important to remember that more doesn't always mean better. With a typical director serving on two or more boards, in addition to running their own companies, even standard communications need to be smart, recognising the time pressures that board members face.
Board meeting materials need to be available to directors in good time, giving them sufficient opportunity to review and digest the information. Ideally, they will also be involved in setting the agenda and establishing the amount of time each topic needs for discussion. A regular complaint among boards is that they do not have enough time set aside for discussion and feedback following presentations, and this in itself can cause disengagement, as directors believe that opportunities for them to add value are missed. For this reason, the format and structure of board meetings should be reviewed on a regular basis to ensure that members feel their time is being utilised effectively to encourage board engagement.
Companies should ensure that their board is fully supported to communicate securely with one another and to work simultaneously on documentation for board and committee activities. Recognising that directors work during varied hours and time zones, they should have the facility to access fully synchronised information at all times, allowing them to work smarter and to maximise the value of their input.
4. Prioritise strategy over operations
Frequently, boards and companies feel that board meetings deal too much with operational aspects and far less with supporting the development of the company's strategy. McKinsey's recent survey found that two out of three directors would like to spend more time helping to shape company strategy, rather than just signing off on it. The same research shows that high-impact boards spend around 12 days per year on strategy, compared with just four for less-engaged boards. Clearly, directors gain a sense of engagement and mission through helping to set the corporate strategy. Interestingly, both high- and low-impact boards spent the same amount of time on the core issue of governance, indicating that it is when boards step beyond governance that engagement levels and effectiveness start to rise.
4. Focus on the future
Boards should be encouraged to recognise the unique perspective that they have on the company and its future challenges and opportunities. A board has the advantage of insulation from day-to-day activities and should be urged to use this to think longer term about the company's direction of travel and the likely challenges that will arise along the way. For long-term custodians of the business, engagement can be earned through entrusting and encouraging directors to ask the "What if?" questions that can help organisations ride out the disruptive storms of modern business.
Fully engaged board directors can make a crucial difference to the organisations that they serve, having a positive impact and playing an essential part in long-term value creation. Supporting them through onboarding, communication and smarter working practices enables them to offer strategic input and a long-term view that, in turn, increases their engagement with the organisation still further. It's not easy, but the returns are well worth the effort.
 WANT TO LEARN MORE?
Learn how your board can improve their governance and rely on Diligent's dedication to customer performance. Request a demo today
Board Portal Buyer's Guide
With the right Board Portal software, a board can improve corporate governance and efficiency while collaborating in a secure environment. With lots of board portal vendors to choose from, the whitepaper contains the most important questions to ask during your search, divided into five essential categories.