Collaborative software provides the support UK boards need today to manage the increasing, and increasingly, complex series of challenges they face. More meetings, regular communication, business strategy evolution in the face of rapid change, constant transformation and heightened risk management – boards must manage all of this. With the support of high-quality collaborative software, boards can engage in the requisite debate to make their decisions better and their performance improved.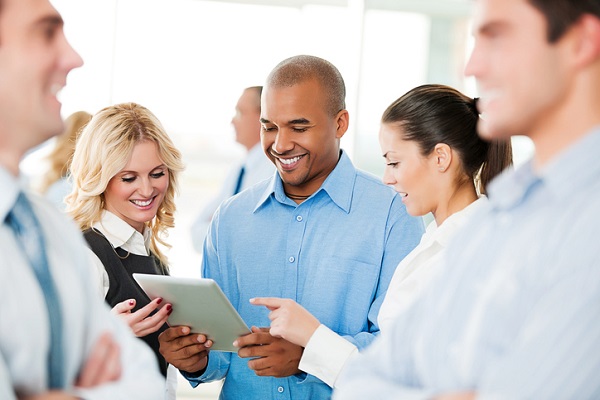 Why do boards of directors need collaborative software?
Today's UK boards of directors need collaboration more than ever, and nothing enables collaboration as well as collaborative software.
UK boards of directors face a series of increasing pressures – the leisurely, quarterly board meetings of yesteryear have been replaced in the UK by intense schedules of meetings, rising workloads and vast amounts of preparatory reading. The pressure of work also means that directors must stay in communication at all times, to keep up with overloaded agendas. The number and size of board committees have also grown rapidly, and communications among committee members and with the board as a whole must be maintained.
The complexity of challenges a board of directors faces has also sharply increased, thereby also heightening the importance of collaboration and collaborative software.
"Advances in technology and relentless innovation, business model disruption, the emergence of Millennials and other demographic shifts, evolving customer demands and employee expectations, and more, will put a premium on corporate agility and the ability to react as conditions change. Think about constant transformation, talent risk management and the opportunities afforded by 'new' technology. Does management have an effective process to monitor changes in the external environment and test the continuing validity of strategic and risk assumptions? Is the board confident in its ability to evaluate competitive threats and understand emerging and potentially disruptive technologies? Does the risk management process provide early warning that adjustments may be necessary?" writes KPMG in a recent note.
Then, staying in touch and communicating is more challenging than ever for board members, as they are more often travelling or simply working at distant sites than ever before. This has been compounded by the critical roles that non-executive directors now play, and the need to bring them together with executive directors and management – again, collaborative software makes this happen.
Collaborative software creates a welcome boardroom dynamic
KPMG notes the need for a healthy boardroom dynamic – one that brings together the right information, the right people and the right agenda. With pressure on boards to get more done, agendas can become simple yea-nay box-checking exercises. With the support of high-quality collaborative software, boards can engage in the requisite debate to make their decisions better and their performance improved.
Collaborative software: Getting the technology right
How can collaborative software help to meet all of these challenges? First of all, it makes access to the requisite information in real time easy and simple. At the same time, information must be safeguarded: Access must only be provided to those with the right to see it. This becomes complicated as board members work on committees. And data must be accessible to all devices and all operating systems, so that there is no physical obstacle preventing collaboration.
All of this is enabled by high-quality collaborative software. All sources of information can be shared in real time, and updated exactly as needed, whether it be agendas, board meeting materials, background material, minutes, memoranda and more.  This enables directors to schedule preparation for meetings around their other commitments and to work in a way that is convenient, familiar and that aligns with how they work outside of their board duties. Communication via messaging, calling and chat is all enabled as well.
But it is just as important that collaborative software provides reliable security for materials and communication, an important consideration in an increasingly challenging cybersecurity environment. All materials are secured with the highest grade of encryption, all requisite patches and upgrades should be made in real time, and potential threats to security should be monitored and prepared for. Using collaborative software also permits restricting access or providing permissions to all materials a matter of a few clicks.
Taking the board meeting and committee meeting minutes is a legal requirement for UK boards, and it has to be done properly. Sharing the minutes of all the various meetings, so that directors can refer to them, is just as important.
High-quality collaborative software not only supports taking the minutes with specialised applications, but it makes it possible to share them. This allows board members to stay up-to-date on all important actions and ensures that they do not miss any critical information or events.
Collaborative software used in boardrooms should be trusted and highly evolved. A quality board portal like that of Diligent Governance Cloud is the perfect example.
Diligent Governance Cloud offers high-quality collaborative software
Diligent designed the Governance Cloud with the processes of board directors, executives, general counsels and corporate secretaries in mind. No other company offers such a comprehensive array of software tools that are cohesive and connected to fully meet the needs of today's board directors.
The few governance solutions that are in the market today have largely been fragmented and disconnected from other processes. Board directors, general counsels and corporate secretaries are realising the need for governance solutions that help them manage governance activities effectively and efficiently. Boards need products to help them streamline duties for compliance, regulation and governance while keeping all processes in a highly secure, confidential platform.
The Governance Cloud, the only integrated enterprise governance management solution that enables organisations to achieve best-in-class governance, is an ecosystem of software tools that digitises the various activities and tasks for the board of directors. As organisations grow more complex and regulations more stringent, the scope of governance responsibilities evolves. The Governance Cloud allows boards of directors to meet the demands in the boardroom and beyond with the ability to select the products they need that help them perform their best and work within their allotted budgets.
 WANT TO LEARN MORE?
Learn how your board can improve their governance and rely on Diligent's dedication to customer performance. Request a demo today
Board Portal Buyer's Guide
With the right Board Portal software, a board can improve corporate governance and efficiency while collaborating in a secure environment. With lots of board portal vendors to choose from, the whitepaper contains the most important questions to ask during your search, divided into five essential categories.