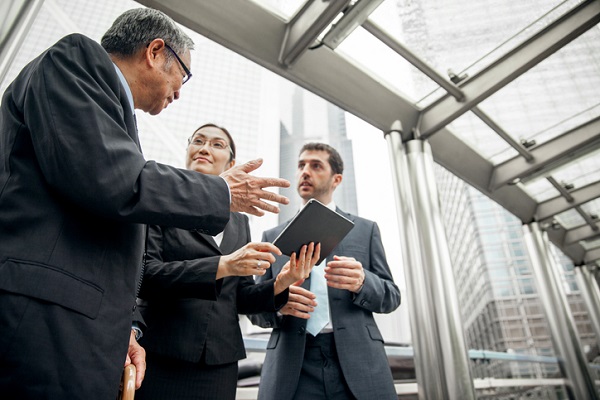 The new 2018 UK Corporate Governance Code, released on 16 July 2018 by the Financial Reporting Council (FRC), puts emphasis on new areas of corporate governance: boardroom diversity – with an especial emphasis on getting more women on boards – remuneration, board effectiveness and board composition are some of the key areas requiring change.
Yet, at many UK companies, these corporate governance principles have already been applied.
"This update to the Code, along with the addition of the concept of company purpose, greater emphasis on culture and broad diversity in many ways embeds and spreads good practice that already exists in some companies," comments Ernst & Young in a recent article.
We look at the areas in which these new corporate governance principles are being applied, and the examples of good practice in UK corporate governance.
Good Corporate Governance Practice for Remuneration
FRC guidance on good governance for remuneration addresses an area that has been controversial in the UK for some years. At 18 listed companies, shareholders voted against the pay package proposals made by their boards.
The FRC proposes in the 2018 Corporate Governance Code:
More demanding criteria for remuneration policies and practices.
Clearer reporting on remuneration, how it delivers on company strategy, long-term success and its alignment with workforce remuneration.
Directors exercising independent judgement and discretion on remuneration outcomes, taking account of wider circumstances.
The issues at stake are matching remuneration to performance, and doing it transparently, so that shareholders can perceive the benefit and vote its approval.
A good example of how this can be done at best-practice standards comes from the London-based exhibitions organiser, ITE Group, which is listed on the London Stock Exchange (LSE).
ITE Group's board is seeking to substantially increase performance-based pay for its top executives over the next three years, during which time the board's Transformation and Growth strategy will be implemented. "The enhanced awards are intended to provide a material incentive to management to focus on driving performance over this period. As the proposed grant levels are significantly higher than the awards made in previous years, shareholders will need to be satisfied with the award size, the rationale provided and with the stretch of the performance targets," according to a company statement.
What is notable here is the clear explanation of remuneration decisions, along with the appeal to the shareholders – all of this just as the FRC lays out in the new Code.
10 Corporate Governance Examples:
Executive Managers and board of directors maintaining an organization compliance culture
Board's succession planning to include board diversity
Remuneration committees must follow best practice standards and criteria for corporate governance
Boards must ensure internal auditing controls are in place and in agreement with stakeholders
Reducing the cost of capital by implementing good corporate governance practices
Non-Executive and Directors board members must have assured independence with proposals
Decision disclosure and transparency demonstrated by the renumeration committees
Managing and identifying the invested interests of stakeholders in the organization.
Clear corporate governance strategic planning within a strong governance framework
Adapt to evolving market conditions by attracting talented directors
Corporate Governance Code Says More Women on Boards
The new Corporate Governance Code places great emphasis on boardroom diversity, with particular attention to increasing the number of women on boards.
According to a 2018 report by the University of Exeter, considerable progress has been made in increasing the diversity of UK boards. In 2017, women made up 27.7 per cent, on average, of FTSE 100 boards, up from 12.5 per cent in 2010. (This had reached 29.0 per cent by July 2018.)
"However, there is evidence that momentum has tailed off and progress on increasing female representation at the top of companies has stalled," the report complains.
Apparently, male resistance to this kind of good governance continues on UK boards. The UK government backed Hampton-Alexander review records some of the worst explanations given by the Chairs and CEOs of FTSE 350 companies for not appointing women to their boards – "e.g., 'women don't fit', 'all the good ones have already gone' or 'most women don't want the hassle.'"https://www.gov.uk/government/news/revealed-the-worst-explanations-for-not-appointing-women-to-ftse-company-boards
A good example of best-practice governance in this area is the Weir Group, an engineering firm – one of the few tech companies in the UK with a firm policy of helping women shatter the glass ceiling – 27 per cent of the board are women, and so are 29 per cent of the executives.
Weir was cited by former Business Secretary Vince Cable as one of the best employers in the category of promotion of women.
"Although Weir operates within industries which are traditionally dominated by men, we are committed to making Weir a more diverse and inclusive workplace and we will continue to deliver opportunities for women to develop their careers. By
2020 we have committed to ensuring that 1/3 of the Board, the Group Executive[s] and their direct reports will be female, In addition the Board will annually review our progress against gender pay D&I initiatives," explains Chief People Officer Rosemary McGinness in a statement.
Corporate Governance Best Practice and Board Effectiveness
Board effectiveness is one of the key principles of the new UK Corporate Governance Code.
"Boards need to think deeply about the way in which they carry out their role. The behaviours that they display, individually as directors and collectively as the board, set the tone from the top. The Code places considerable emphasis on decision-making and outcomes."
De la Rue, the British manufacturer of banknotes and passports, won a corporate governance award from World Finance magazine in 2018. De la Rue is distinguished for its effective board, which external evaluation again validated last year.
"At De La Rue, the Board continues to work closely with the executive management team and offers support and robust challenge as appropriate. All Directors play an active role in overseeing management of the business. The Board agenda will continue to balance the need to improve oversight and governance of all aspects of the business with the ability to debate and examine forward looking strategy, including changes to the business environment and markets in which we operate and compete," the annual Corporate Governance report notes.
Corporate Governance Best Practice in Board Composition
The new Code places strong emphasis on board composition.
"Appointing directors who are able to make a positive contribution is one of the key elements of board effectiveness. Directors will be more likely to make good decisions and maximise the opportunities for the company's success if the right skillsets and a breadth of perspectives are present in the boardroom. Non-executive directors should possess a range of critical skills of value to the board and relevant to the challenges and opportunities facing the company."
UK mining and resources giant BHP provides a good example of corporate governance principles are being applied. "As you would expect, Board composition continues to be a topic of discussion during meetings with shareholders. Investors – like the Board – believe that regular refreshment is important, but they are also aware of the value that corporate memory brings to a board," Chairman Ken Mackenzie points out in a recent speech.
"As part of ongoing planning for Non-executive Director succession, the Board has maintained a skills matrix for several years. Following a review of Board succession planning, the Board has refreshed its approach. The requirements for Board composition are now framed with an overarching statement, and the desired skills and experience included in our updated matrix. The overarching statement, skills, experience and attributes take into account, and respond to, the changing external environment and BHP's core business characteristics.
The Board has 10 members, including the CEO. I am a proponent of a relatively small Board. However, for a company like BHP, which has four key Board committees (with the Sustainability Committee being critically important in our industry), a Board size of 10 to 12 is appropriate. As of 30 June, the average tenure of Directors was five years and two months. BHP has an aspiration to achieve gender balance across our workforce – and on our Board – by FY2025, and Board diversity remains a focus."
Diligent's Board Software Supporting Corporate Governance Principles 
To keep up with all of the information regarding corporate governance, Diligent Boards keeps directors up-to-date. Our board software moves all of the agendas, documents, annotations and discussions of board meetings online into one intuitive, secure board portal. The board management software goes beyond digital board books to manage the full scope of a board's moving parts — committees, contacts, voting, reporting and more.
With Diligent Boards, on-the-go directors will have more than a board portal at their fingertips. From a single sign-on (even for those who sit on multiple boards), they'll be able to work across devices (with real-time syncing) to: stay current with committee meetings and materials; communicate and annotate documents in tandem with other users and get notifications for updates; easily search archives and board resources; complete board assessment questionnaires; and submit their votes and signatures any time of the day or night, from anywhere in the world, from their smartphone, tablet or laptop.
As organisations grow more complex and regulations more stringent, the scope of governance responsibilities evolves. The Governance Cloud allows boards of directors to meet the demands in the boardroom and beyond, with the ability to select the products they need that help them perform their best and work within their allotted budgets.
The Governance Cloud ecosystem of products includes:
 WANT TO LEARN MORE?
Learn how your board can improve their governance and rely on Diligent's dedication to customer performance. Request a demo today
Board Portal Buyer's Guide
With the right Board Portal software, a board can improve corporate governance and efficiency while collaborating in a secure environment. With lots of board portal vendors to choose from, the whitepaper contains the most important questions to ask during your search, divided into five essential categories.