There is not enough healthy tension on UK boards, analysts say. Boards of Directors and Chairmen should include a number of different viewpoints and directors should contribute with original opinions. The process for board members who evaluate fellow directors should help to foster such dynamics, or should point out ways to bring such dynamics into being. Board assessment tools such Diligent Board Evaluations helps your organisation answer these questions by putting valuable board self-assessment data at your fingertips.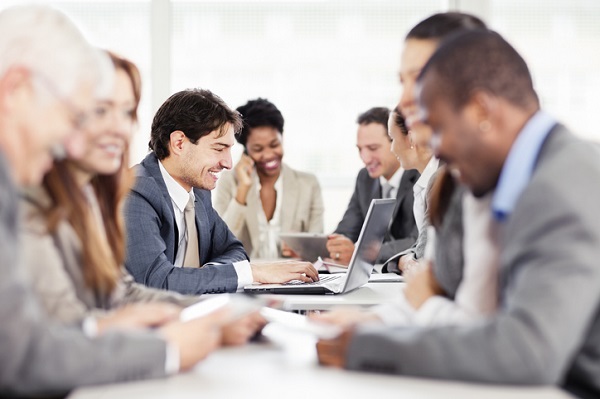 UK boards of directors are too "comfortable"
"Good boards are pretty uncomfortable places and that's what they should be," says former UK Financial Reporting Council Chairman Sir Christopher Hogg.
The problem, as noted in a recent study, is that UK boards are too comfortable, too used to sharing the same point of view, too much of a private club, as a large number of executives have worked or served on boards with other board members. Such is the level of "comfort," that there are repeated accusations of cronyism. But, even if that is an exaggeration, governance experts want to see more healthy tension, more debate and a greater variety of points of view among UK directors.
"Indeed, boards that operate to their potential are characterised by constant tensions, coupled with mutual esteem between management and outside directors. Rather than leading to endless bickering, this virtuous combination helps to facilitate healthy and constructive debate and improves decision-making," writes McKinsey in a recent article.
Encouraging board evaluations with board of directors and chairmen
The relative stature of the chairman and the rest of the board is important, as McKinsey points out. According to one senior independent director of a UK company, "You need a person who can tell a chairman that he or she is acting like an idiot, when necessary." In the United Kingdom, chairmen are usually among the oldest members of the board, so bluntness may be difficult for the younger directors. But, on a properly functioning board, such frank speech should be accepted.
A certain means to improving boardroom dynamics is to engage all directors on the board, along with management, in self-evaluation. Put simply, this means: Get all directors asking each other, 'How are we doing?' If all directors agree that everything is going along swimmingly, something is very wrong.
But a study by the Stanford Rock Center for Corporate Governance shows that getting board members to engage in self-evaluation, and to criticise each other's performance, is a major challenge. Only a small fraction of boards considered in the study feel that director-to-director criticism is valid.
Effective self-evaluation – How do you lead? How do you manage?
Effective self-evaluation by board members should first assess the quality of leadership. This should start right at the top with the chairman and then include the lead independent director (or independent chair) and committee chairs, according to a recent article in the Harvard Business Review. It should examine how the leader was chosen, the skills and experiences the individual brings to bear, and his or her leadership style – studies show that most directors consider boardroom leadership inadequate.
"The company should develop criteria for these roles and evaluate the available skill sets of its members to determine who is most suitable. Companies should avoid appointing a leader by default (e.g., the person who volunteers to do the job or the most senior member of the board) or looking solely to the required background (such as a qualified financial expert), because temperament is often key to effectiveness in the role."
Board evaluations and holding effective board meetings
This section should evaluate how the board is managed. This includes the manner in which board meetings are conducted. Are board meetings useful and productive? Is there an honest exchange of ideas?  Are all of the directors participating, and, if not, why not?
"Particular attention should be paid to committee meetings and executive sessions. According to many directors, the 'real work' of the board takes place in committees. The board evaluation process should determine whether clear expectations are established for the work conducted by committee members and whether committee reports are effective in keeping the full board informed about issues facing the company," the Stanford research shows.
Board evaluations should also review whether executive sessions (which take place outside the presence of management and include only nonexecutive directors) are properly structured to ensure that the day's meetings are productive and effective in framing and reviewing discussion topics.
"One red flag to look out for is whether board members feel uncomfortable expressing their honest opinions in front of management and instead wait for executive sessions, when management is not present, to speak freely. This dynamic is detrimental to decision making," the Stanford research points out.
How do boards of directors perform?
Finally, board evaluations stand to improve by rigorously reviewing the manner in which board members interact, including which directors participate and how decisions are made.
"In particular, the board evaluation process should review the behaviours that directors adopt in interacting with others. Examples of positive behaviours include asking the right questions, building on others' points of view, framing content in a constructive fashion, and staying engaged. Positive individual behaviours earns the attention of fellow directors and management and demonstrates that the participant is trying to contribute rather than 'win' an argument. Leadership and coaching can help individual directors develop a range to their style so they can more effectively contribute to group deliberations," the Stanford research indicates.
Diligent Governance Cloud streamlines the board evaluation process
The board evaluation tool in the Diligent Governance Cloud sharply improves and speeds up the process.
Diligent's Board Evaluation Tool customises evaluations and analyses past results. You can personalise your assessments with multiple user-tested question types, incorporate glossaries and supplemental reference information, and view past evaluation results with only a few clicks. It enables you to monitor completion status, set and change assessment close dates as necessary and finalise questionnaires with secure e-signature sign-off.You can also gain immediate insight into results with custom reports that incorporate visual graphs that are ready for presentations and sharing. And, via an export wizard, custom reports can be pulled in just a few clicks.
The entire process take place in the secure environment provided by the Diligent Governance Cloud, so that all messaging, discussions and exchange of documents is encrypted and safe from any intrusions.
 WANT TO LEARN MORE?
Learn how your board can improve their governance and rely on Diligent's dedication to customer performance. Request a demo today
Board Portal Buyer's Guide
With the right Board Portal software, a board can improve corporate governance and efficiency while collaborating in a secure environment. With lots of board portal vendors to choose from, the whitepaper contains the most important questions to ask during your search, divided into five essential categories.