The most efficient boards collaborate with active debate and the input of insights from a broad variety of sources. To do this effectively, collaborative technologies are needed to support real-time communication and to make the necessary documentation available.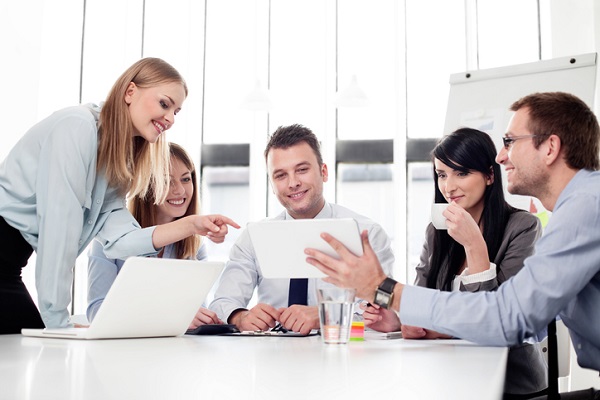 UK Boards, Efficiency, Collaboration Technologies
What makes UK boards more efficient? Efficient boards make decisions faster, but they bring more and varied insight into the decision, because they hold useful discussions that take a large number of viewpoints into account. Behind those viewpoints is expert preparation: Board members brief themselves with the most up-to-date materials on issues and governance. How can this level of efficiency be achieved? Only with high-quality collaboration technologies that permit board members to communicate and brief themselves efficiently.
Collaborative Technologies Lead to High Performance
The board that is best prepared is also among the most efficient. To be prepared for all discussions and issues that arise, board members must be able to stay briefed. It's a lot of ground to cover. McKinsey says: "Directors remain under pressure from activist investors and other constituents, regulation is becoming more demanding, and businesses are growing more complex. Research suggests that the most effective directors are meeting these challenges by changing the nature of the engagement between directors and the executive teams they work with. It's not just about being at meetings, and being prepared for them, it's about touching base where you're needed whenever you're needed.
Collaborative technologies are needed to support directors under all this pressure. To engage more effectively with executive teams, directors must go out of the boardroom, into the business, and see what's really happening. They must establish good relationships with managers at all levels.
To do these things, communication has to be optimum, because directors must always stay in touch with the boardroom. To communicate safely and securely with managers, the collaborative technologies are ideal. To stay in touch with other board members at all times, a high-quality board portal will permit messaging, chat or calls that are all protected by the highest level of security.
For many directors, travel is a big part of the role, and travelling time can provide the ideal opportunity to brief themselves on board matters. They need to have collaborative technologies supporting them, so that they can always have whatever information they need within arm's reach.
 Learn about the importance of using secure communications technology in the boardroom with this free white paper.
Collaborative Technologies Enable More Robust Performance
Many directors feel that their primary role is to be responsible for financials, and financial reporting. As McKinsey notes, many boards start with a basic review of financial metrics.
"But it is possible for board members to aspire to a much higher level of efficiency. In performance management, for instance, many boards start with a basic review of financial metrics. More involved boards add regular performance discussions with the CEO, and boards at still higher levels of engagement analyse leading indicators and aspire to review robust nonfinancial metrics. In the areas of risk, M&A, and talent management boards follow comparable progressions."
Once again, there's quite a lot of ground to cover. But collaborative technologies are there to support deeper and broader analysis than boards have made in the past. A library of board books, traditional books and publications of all kinds, as well as board discussions, can be available to all board members at any time, wherever they go, via collaborative technologies.
To be more efficient, more highly performing, boards must actively debate strategy. Once again, this can be done at a higher level than in the past.
"In the area of strategy, for example, this means becoming more forward-looking. Boards with a moderate impact incorporate trends and respond to changing conditions. More involved boards analyse what drives value, debate alternative strategies, and evaluate the allocation of resources," McKinsey writes.
Here, collaborative technologies have a critical role to play. For an exchange of ideas as complex as this, boards may have to reach out to third-party experts, or hold discussions while in between meetings and board members are all offsite. To discuss sensitive matters such as this in security, over distances, collaborative technologies are essential. They can bring board members together in an environment that is as secure as possible, and it is watched over by IT experts who ensure that newly evolved threats are thwarted. Only in these conditions can board members have discussions freely, sure that sensitive information will not be leaked.
"At the highest level, boards look inward and aspire to more 'meta' practices — deliberating about their own processes, for example — to remove biases from decisions." This kind of board member peer evaluation also requires a safe and reliable environment. Such issues can create resentment among board members — when discussions are held via collaborative technologies, the chairman or other board members can defuse any conflicts.
Diligent Governance Cloud: A Reliable Tool for Achieving Compliance
The Governance Cloud, the only integrated enterprise governance management solution that enables organisations to achieve best-in-class governance, is an ecosystem of software tools that digitises the various activities and tasks for the board of directors. As organisations grow more complex and regulations more stringent, the scope of governance responsibilities evolves. The Governance Cloud allows boards of directors to meet the demands in the boardroom and beyond with the ability to select the products they need that help them perform their best and work within their allotted budgets.
Governance leaders, executives and board directors rely on the industry-leading Diligent platform for the most secure and intuitive solution to board material management and collaboration. Diligent Boards™ is a board portal that electronically stores a board's agendas, documents, annotations and discussions within a secure board portal. Company secretaries and board chairs can use the portal to put together board books in minutes. The portal also has designated virtual rooms for committee work. Administrators of the portal can designate permissions for users to access various areas of the portal to avoid unnecessary problems with confidentiality. The "Manage Meetings" feature consolidates board directors' contacts and calendars, as well as the logistics of meetings. The program is a secure and intuitive solution for managing board materials and collaboration.
 WANT TO LEARN MORE?
Learn how your board can improve their governance and rely on Diligent's dedication to customer performance. Request a demo today
Board Portal Buyer's Guide
With the right Board Portal software, a board can improve corporate governance and efficiency while collaborating in a secure environment. With lots of board portal vendors to choose from, the whitepaper contains the most important questions to ask during your search, divided into five essential categories.