UK boards of directors and company secretaries are under increasing pressure to perform in recent years. With these vast responsibilities, the ability to make informed decisions in real time is an improvement that technology can help to achieve. By enabling secure, rapid communication among board members, and creating a library of materials for their reference, and by compiling documents that can be updated in real time, board management software helps directors perform better and company secretaries to work more efficiently. Board software like Diligents Governance Cloud has a multitude of features that makes it superior among such possible technological choices.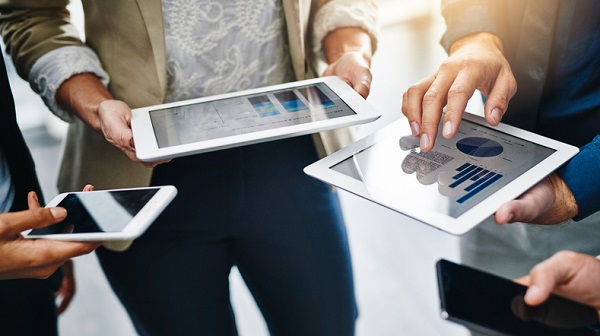 Board Software Helps Boards to Perform Better
As the UK Financial Reporting Council points out, UK boards of directors are under increasing pressure to perform in recent years. At the same time, the range of a board's responsibilities has grown.
In this context, technology can help make a board more effective, as the FRC writes:
"An effective board develops and promotes its collective vision of the company's purpose, its culture, its values and the behaviours it wishes to promote in conducting its business. In particular, it:
Provides direction for management;
Demonstrates ethical leadership, displaying – and promoting throughout the company – behaviours consistent with the culture and values it has defined for the organisation;
Creates a performance culture that drives value creation without exposing the company to excessive risk of value destruction;
Makes well-informed and high-quality decisions based on a clear line of sight into the business;
Creates the right framework for helping directors meet their statutory duties under the Companies Act 2006, and/or other relevant statutory and regulatory regimes;
Is accountable, particularly to those that provide the company's capital; and
Thinks carefully about its governance arrangements and embraces evaluation of their effectiveness."
Board Management Software Supports Decision-Making
With these vast responsibilities, the ability to make informed decisions in real time is an improvement that technology can help to achieve. A high-quality board portal has a multitude of features that makes it chief among such possible technological choices:
"Electronic distribution is generally accepted to be safer and more efficient but there are also a number of personal advantages for the board member in using a board portal," writes the UK Institute for Chartered Secretaries and Administrators (ICSA) in a recent note.
Selecting a board portal means document storage with real-time updating, and access from any operating system or device, anywhere in the world:
"The major advantage is being able to get papers out to members in a timely fashion. An administrator of a board will have lots of papers coming in for a particular meeting, which then need to be collated, formatted and distributed to directors in many different locations. That challenge is compounded by papers coming in late or being amended, so a set of numbers may go out that then need replacing because something has changed. Of course, boards want to achieve this in an effective way, and they want it to be fast and secure," ICSA explains.
"After directors have securely signed in, the opportunity to navigate between different sections is helpful. The fact that they can annotate documents and then email different sections if they wish to share information are useful features. They can access these papers without being in the office or even necessarily being online, which enhances productivity and is of particular benefit for mobile directors," ICSA observes. And with a high-quality board portal, there is no longer the effort and investment required for producing a better board information pack, one which all directors may contribute to by simply sending documents to the company secretary.
Board Software Comparison: How to Get the Best Value
Assuring secure and quality communication is another characteristic that any high-quality board portal should offer. "Having the right tools in the boardroom can help to improve communication, sustain contact between the board members and keep each member ahead with the latest information. Technology in the form of tablet and mobile software, if used correctly, can be a major help in achieving this," ICSA adds.
An ICSA member explains: "A high-quality board portal can assist better communication and relationships in many ways, ranging from audio calls and video links to electronic board portals, enabling papers to be distributed at the last minute ahead of a discussion, or signatures to be captured by scan from remote locations. It is easier to distribute … large quantities of back up information for those who wish to work through specific details."
As we've seen, supporting board members in meeting their statutory duties is another role that board software can fill. By creating a rich library of documents relative to all the tasks directors must perform, the board management software can become a reliable reference point so that board members are always on track and up-to-date.
Diligent, the Most Robust Board Management Software
The Governance Cloud, the only integrated enterprise governance management solution that enables organisations to achieve best-in-class governance, is an ecosystem of board software tools that digitises the various activities and tasks for the board of directors. As organisations grow more complex and regulations more stringent, the scope of governance responsibilities evolves. The Governance Cloud allows boards of directors to meet the demands in the boardroom and beyond with the ability to select the products they need that help them perform their best and work within their allotted budgets.
Governance leaders, executives and board directors rely on the industry-leading Diligent platform for the most secure and intuitive solution to board pack software. Diligent Boards™ electronically stores a board's agendas, documents, annotations and discussions within a secure board portal. When board members have questions, they need answers right away. Diligent's customer service representatives answer questions 24/7 and 365 days a year. Boards should expect that someone will answer their calls quickly and provide answers on the spot. Diligent has won numerous awards for excellent customer service.
Board secretaries and board chairs can use the portal to put together board books in minutes. The portal also has designated virtual rooms for committee work. Company Secretaries and Administrators of the portal can designate permissions for users to access various areas of the portal to avoid unnecessary problems with confidentiality. The "Manage Meetings" feature consolidates board directors' contacts, calendars and the logistics of meetings. The program is a secure and intuitive solution for managing board materials and collaboration.
Board Portal Buyer's Guide
With the right Board Portal software, a board can improve corporate governance and efficiency while collaborating in a secure environment. With lots of board portal vendors to choose from, the whitepaper contains the most important questions to ask during your search, divided into five essential categories.