Board diversity builds stakeholder value. This hypothesis has been consistently proven by research across various sectors where businesses with diverse boards have outperformed competitors.
A board composed of a broad range of perspectives is better placed to steer organisations through tough times and ensure they continue to thrive and generate long term returns. With that in mind, the question remains: Why are there still so few directors with diverse characteristics — and, in particular, directors from LGBTQ+ communities — on UK boards? And what can the CEO, board chair and nomination/governance committee do to ensure LGBTQ+ diversity, inclusion and equality starts from the top?
How Diverse are UK Boards Right Now?
Board diversity in the UK is, by some measures, making progress. A drive to get more women into board roles has seen the percentage of female FTSE 100 directors rise 18% over the past three years, to a current level of 33.8%. However, the Parker Review Committee's target for FTSE 100 companies to have at least one non-white corporate director by 2021 will not be reached. Board recruitment specialists Egon Zehnder noted that: "As of early 2020, 37% of the FTSE 100 companies did not have any such representation on their boards."
When it comes to LGBTQ+ director presence on UK boards, we were unable to uncover authoritative data. However, looking to the US, just 26 of the 5670 board positions in Fortune 500 companies are held by directors who openly identify as LGBTQ+. This rate of just 0.4% is likely to be similar in UK boardrooms. As Todd Sears, Founder of the global LGBTQ+ business network Out Leadership, noted in a recent Diligent podcast: "Somewhere between 10 and 25% of people identify as LGBTQ+ […] so 0.4% is a paltry sum."
Recognising the imperative of action to change this status quo, a 2020 report by the Financial Reporting Council titled "Building More Open Business" examines how companies can support the progression of LGBTQ+ people and other minority groups into senior leadership positions. It points to four pillars for changing culture and embedding inclusive practices throughout the organisation, all of which require championships from boards, senior leadership and governance teams. To quote the report, they are:
Leadership: Mobilise and empower through purpose, vision and connection.
Relationships: Look beyond the organisation. Engage with, and exert influence through external relationships and channels.
People Management: Recognise that people drive culture. Foster and embed inclusion throughout the workforce.
Policies and procedures: Provide a clear roadmap. Develop a clear set of rules and methods to ensure inclusion objectives are met.
To drive diversity, boards and governance teams should consider applying these principles to their practices.
Actions to Build LGBTQ+ Representation at Board Level
Matt Fust, who is a senior advisor to Out Leadership on its Quorum movement, which advocates for LGBTQ+ diversity in corporate governance, notes that much of the work needed to improve LGBTQ+ representation mirrors that being done to support diversity in general. During the Diligent podcast, he and Sears discussed various actions senior leaders and governance teams can take, including:
Adopt board diversity policies that specifically include sexual orientation and gender identity: Many boards already capture the desire for a mix of gender representation, ethnic background, skills and experience, so the inclusion of LGBTQ+ as a diversity characteristic should not be a difficult undertaking. Amending 

board diversity policies

 — a process led by the Nominating and Governance Committee and formally adopted by the board — is an important signal and a simple first step.
Ensure board recruitment companies are briefed fully on diversity requirements and guided to look for more diverse candidates: According to Sears, until recently, executive recruitment firms were generally positive about seeking LGBTQ+ candidates, but were not proactive until they were asked for it by boards. By making requirements explicit, corporations can accelerate that shift.
Think differently about what constitutes a director candidate: A shift is already underway, with recognition that the traditional director skills of financial and legal expertise should be complemented by experience in fields such as cybersecurity, sustainability and talent management. The people with those skills are likely to come from different pools, and backgrounds and, says Sears, this "provides an opportunity to think differently about where you're fishing and what you're fishing for."
Look outside personal networks and traditional institutions: Related to the point above, boards have tended to recruit in their own image, often from within existing directors' personal networks. This perpetuates director stereotypes and limits opportunities to discover diverse candidates. By engaging with organisations that support the progression of underrepresented groups, such as Out Leadership, and initiatives such as 

Diligent's Director Network

, which is the largest and most diverse community of board-ready executives globally, organisations can identify a range of diverse candidates.
Be alert to over-boarded candidates and encourage first-time directors: A major barrier to diversity progression is the fact that board vacancies arise infrequently, and many current directors hold multiple positions; this limits opportunities for first-time directors. There is an increasing focus from institutional investors on the number of boards directors sit on and, by making this part of candidate screening, companies can open positions to candidates who aren't already directors and benefit from diverse new talent.
Now is the Time for Action on Board Diversity
There is a definite sense of hope that we are at an inflexion point in terms of the role of corporate governance in accelerating diversity, as five factors coincide:
Factor 1) Improving LGBTQ+ representation on boards is simply the right thing to do. Every person should have equal opportunities to achieve their potential in business and everywhere else, regardless of their gender identity and sexual orientation.
Factor 2) A generational shift is taking place, and expectations are changing rapidly. According to Sears, 35% of Generation Z identifies as LGBTQ+. "They expect inclusion, intersectionality, they expect non-conformity; in some ways this generation doesn't even understand the struggle," he says. Companies whose employees, customers and investors will increasingly come from this generation must respond to these expectations.
Factor 3) Tolerance for injustice is diminishing. The catalysing death of George Floyd and inequalities exposed by the pandemic have elevated awareness of injustice and the duty of corporate citizens in addressing it.
Factor 4) Investors and market regulators are increasingly focused on the issue and starting to stipulate reporting of board and wider business diversity.
Factor 5) As we highlighted at the start, diverse boards build better businesses. In a competitive world, organisations must repudiate prejudice to fully realise the competitive and ethical advantages of having different voices, including those of LGBTQ+ leaders, on their board.
There is still a long way to go. It will take courageous leadership to overcome institutional inertia and change the status quo. It will also require organisations to scrutinise and report their performance more closely, something Diligent's ESG Solutions are designed to support. To hear more insight into how to support and advance LGBTQ+ leadership, listen to our podcast with Sears and Fust, learn more below.
Dimensions of Diversity: LGBTQ+ Representation in Leadership (Apple Podcast)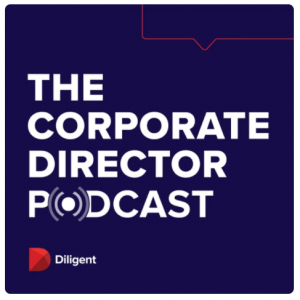 Discover how to take first steps to support LGBTQ+ representation within your organisation's leadership. Hear from Todd Sears and Matt Fust of Out Leadership who expand on the current state of LGBTQ+ representation, their work to support LGBTQ+ leaders and the various methods organisations should be utilising to move the dial.
Board Portal Buyer's Guide
With the right Board Portal software, a board can improve corporate governance and efficiency while collaborating in a secure environment. With lots of board portal vendors to choose from, the whitepaper contains the most important questions to ask during your search, divided into five essential categories.