Tackling 2021's Greatest Board Leadership and Governance Challenges
For the foreseeable future, technologies and innovation within governance, risk and compliance will be wildly important. Modern governance leaders are required to partner effectively together and with directors to manage digital transformation and address stakeholder demands on the most critical issues, and to carry out the missions and visions of organisations.
At the Modern Governance Europe event in June 2021, we asked governance leaders for their insights into how today's most critical issues are impacting them and their boardroom. We discussed challenges ranging from concerns about virtual meetings, to integrating risk and compliance into an ESG (Environmental, Social and Governance) framework, to considering who has the biggest impact on driving diversity at board level.
We have compiled those answers detailing where progress is being made – and where it is lagging.
Who responded to the survey:
Board Member – 17%
Company Secretary – 45%
Director – 2%
General Counsel – 3%
Legal – 4%
PA/Executive Assistant/Secretary – 7%
Other – 22%
The Current State of Board Governance
1. What does the future of board meetings look like?
When it comes to the future of board meetings, a whopping 84% of respondents predicted a hybrid of in-person and virtual board meetings while only 6% of respondents anticipated fully virtual board meetings forthcoming. In terms of the biggest concerns surrounding virtual board meetings, two-thirds (65%) of respondents felt that the difficulties in communicating with other board members was a key factor.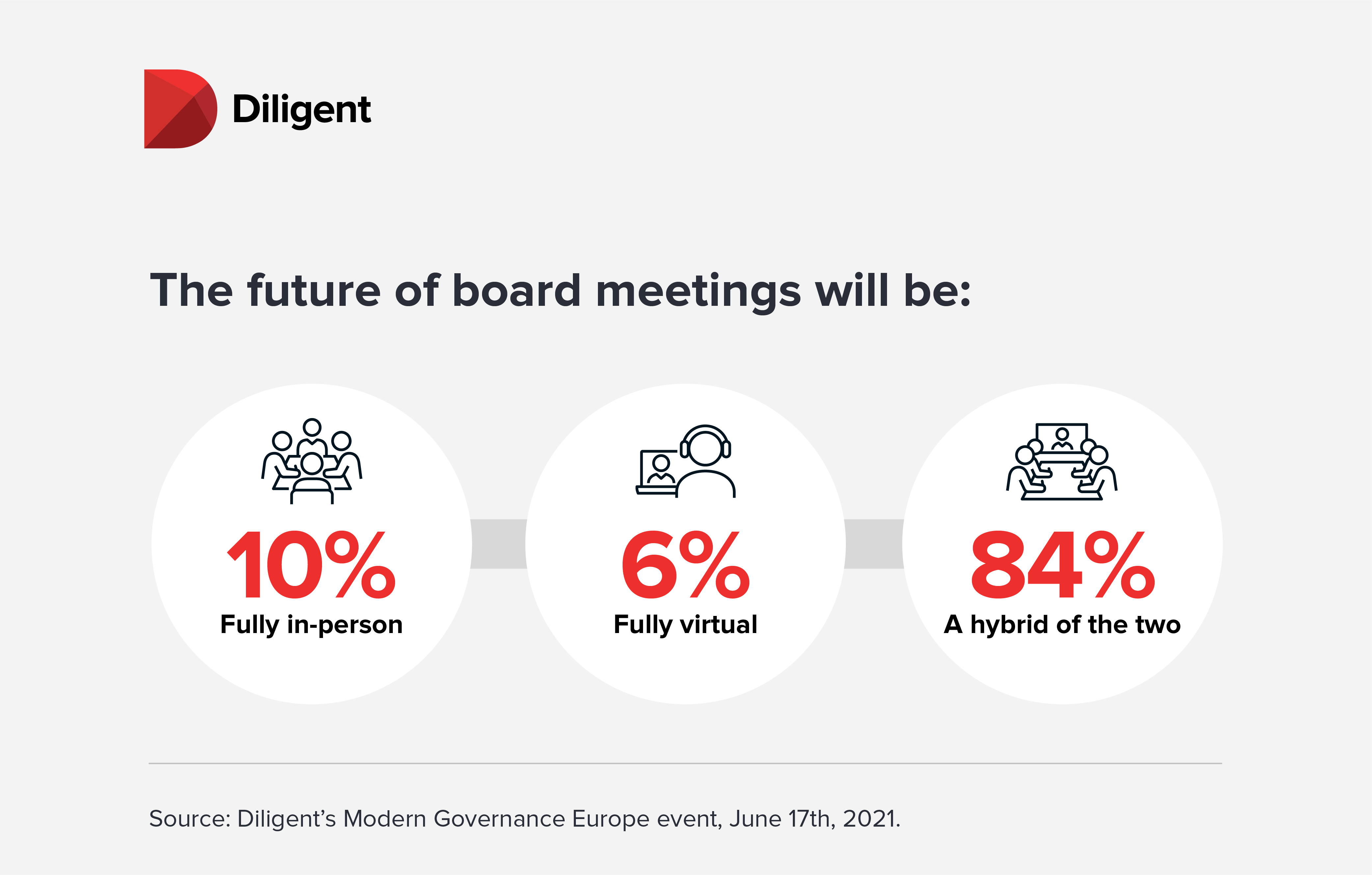 The right technology can strengthen virtual board communications significantly. A strong board communication strategy should include an emphasis on the right processes and tools to ensure superior quality board communication throughout the year, whether the board is meeting is fully in-person, fully virtual or using a hybrid of the too.
2. How do boards leverage advanced governance analytics to guide decision making?
In terms of board-level decision making, 42% of respondents believe that advanced governance analytics can help with internal analysis and the identification of weak points. 27% believed that it can help with ESG and 24% saw it as a peer monitoring and benchmarking tool. Only 7% felt that advanced analytics would help with board recruitment and diversity.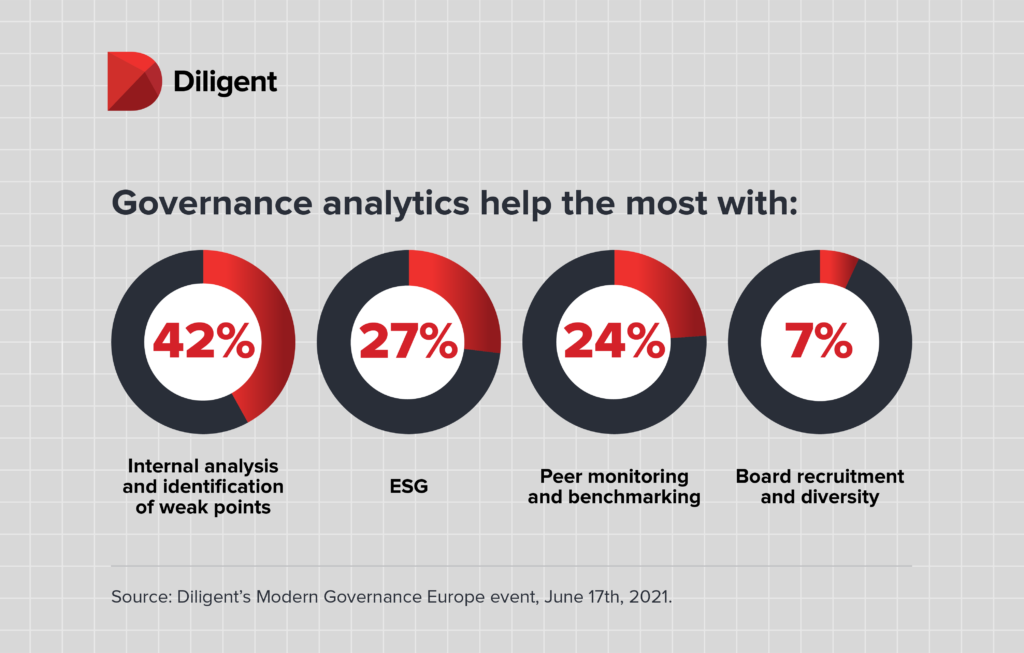 By incorporating modern governance software, boards can gain a competitive edge and improve governance practices. Monitoring curated analytics and insights enables leaders to spot risks and act on opportunities. With technology, boards can turn insights into actions that are vital to you and your organisation.
3. What is the biggest challenge your organisation faces?
In terms of the biggest challenges facing your organisations, the results were quite evenly spilt. Risk and compliance (33%) and effective entity governance (33%) are big challenges that governance leaders are facing, while the reliability of data (23%) was another significant factor.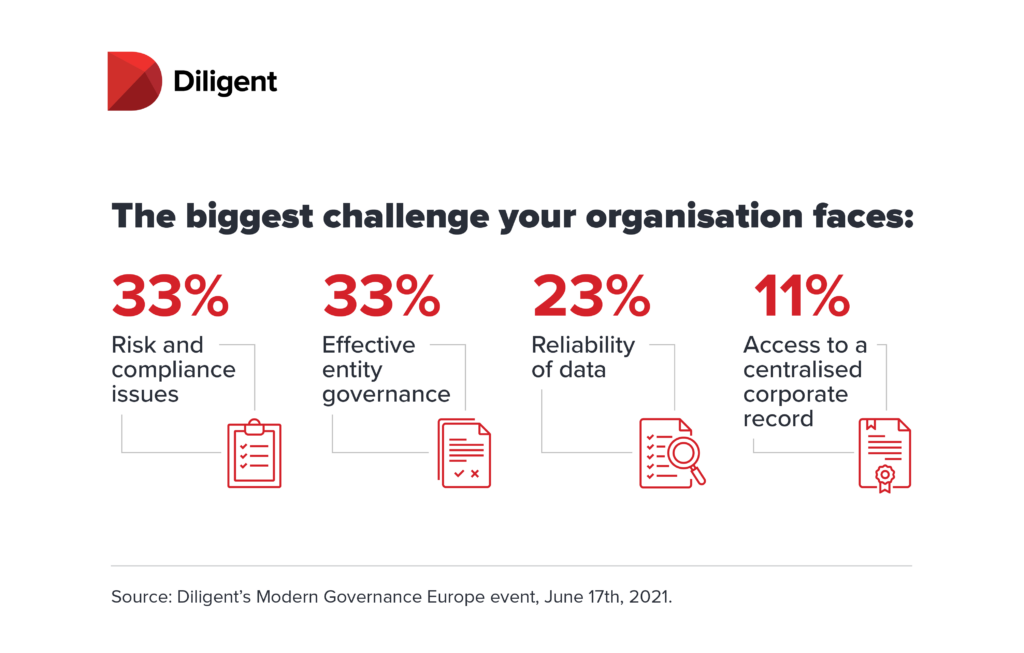 Boards must ensure that compliance requirements are incorporated into their internal processes. Poor entity management places corporate reputations at risk, meaning boards need strong systems and processes in place to stay on top of compliance as regulations evolve.
4. When it comes to board governance, where does technology help the most?
When it comes to governance, although 22% of respondents believe that technology helps board meeting administrators with functions such as minute-taking, nearly twice as many respondents (43%) felt that and communication and collaboration is where technology plays the most significant role.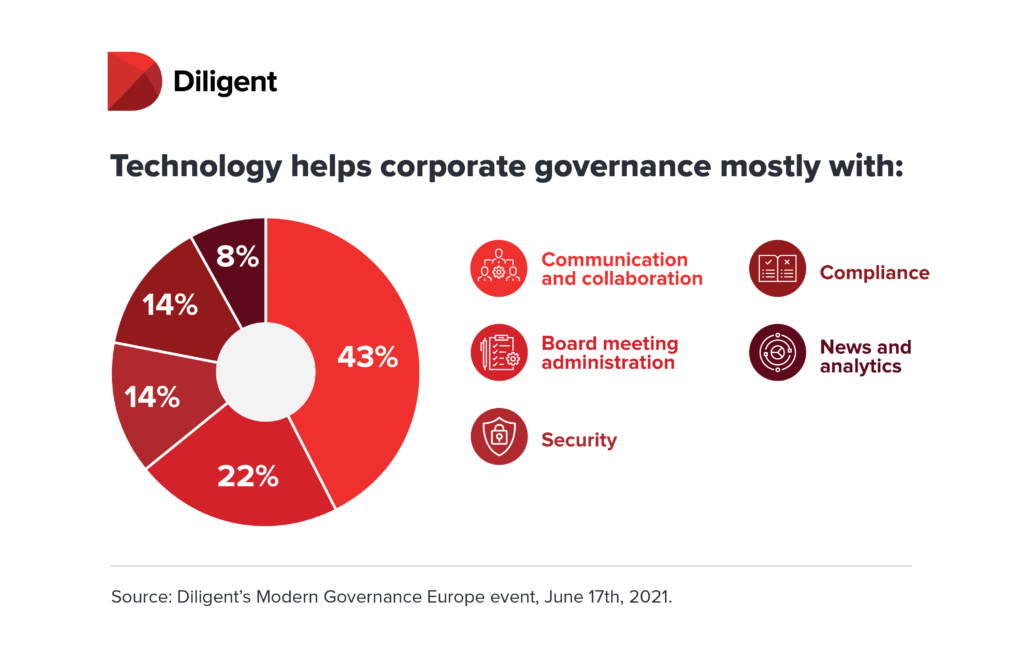 Board software and secure communication should be a high priority on any board to prevent them risking data breaches that could jeopardise the very foundation of their business. In a constantly fast paced business environment, having the right technology infrastructure in the boardroom empowers boards with the necessary framework to meet governance challenges head on.
Many respondents (59%) felt that their organisation has not fully embraced a modern approach to governance, but it was anticipated in the future.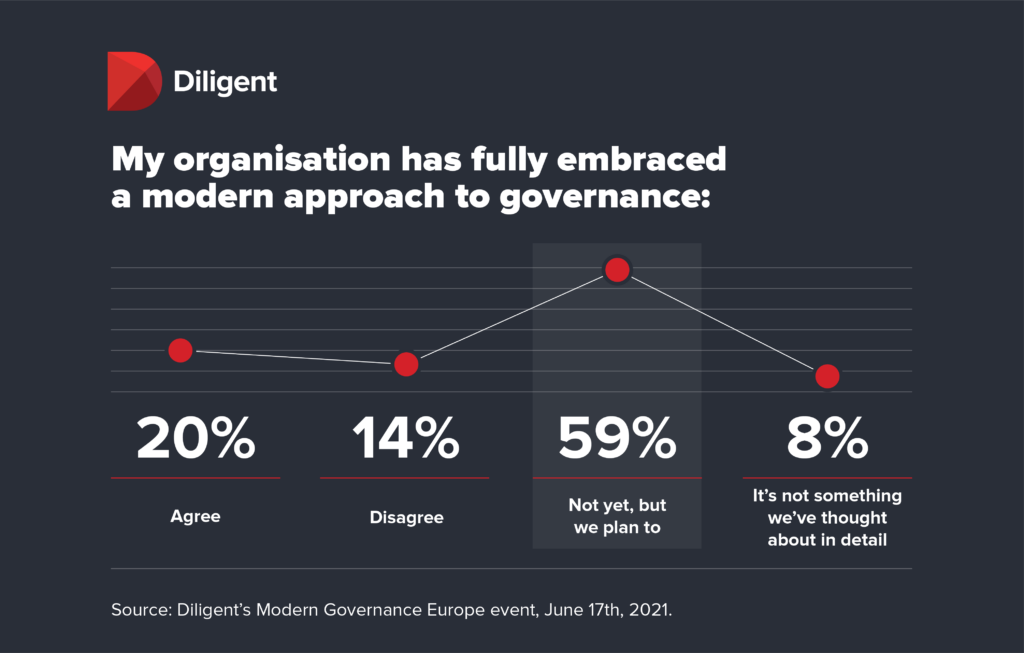 The Solution to Better Board Governance and Best Practices
As the roles of board and governance leaders continue to evolve faster and become more demanding, the secure digitisation of board processes and intelligence-sharing is fundamental to keep pace with the demands of today's businesses. To thrive in this stakeholder-centric landscape, modern governance leaders must manage digital transformation that provides a holistic, integrated view of GRC (governance, risk and compliance) throughout an organisation. Inefficient and outdated processes provide boards with poor visibility and leave them ill-equipped to tackle core challenges.
Diligent's modern governance platform ensures board and governance leaders have the visibility to lead better. It securely collates the full range of data types, from internal reports and board meeting materials to information about competitors and broader industry trends. With Diligent, leaders can gain a competitive edge to improve governance by having the right information, analytics and insights to spot risks, act on opportunities and turn insights into action.
By digitising your boards' governance practices, your organisations can create a strong framework on which to thrive and grow. Our free checklist lays out step-by-step insights into the technology that powers modern governance.
Download your Digital Resilience Checklist today: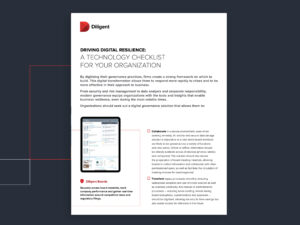 WANT TO LEARN MORE?
Learn how your board can improve their governance and rely on Diligent's dedication to customer performance. Request a demo today
Board Portal Buyer's Guide
With the right Board Portal software, a board can improve corporate governance and efficiency while collaborating in a secure environment. With lots of board portal vendors to choose from, the whitepaper contains the most important questions to ask during your search, divided into five essential categories.