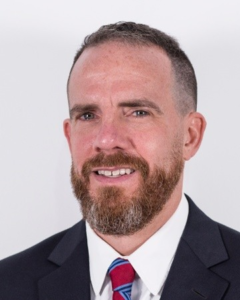 The Modern Governance 100: Jim Myers, Associate General Counsel
During the first-ever Modern Governance Summit this September, Diligent launched the Modern Governance 100 programme, which recognises 100 hardworking governance professionals who are driving change and good governance across their organisations. All recipients were nominated by board members, executives and fellow colleagues for an exemplary commitment to modernising governance in their day-to-day role.
Within Benelux, Jim Myers, VEON's Associate General Counsel – Corporate Governance was nominated and is a recipient of this year's Modern Governance 100. Jim is an experienced in-house corporate governance attorney and has been with VEON since 2018. With an increased workload for VEON's board, the board's committees and the management team, there was a need for timely and accurate communications between the board members and members of the management team. Since joining VEON, Jim has been a leader in implementing Diligent Boards and additional questionnaire modules to manage these processes.
We were able to ask him a few questions about his vision of modern governance.
What are the main governance challenges for you as an Associate General Counsel?
"As a listed company, VEON and its Board of Directors maintains high corporate governance standards. Our governance structure is designed to promote transparency, clear accountabilities and proper decision making in everything we do." This is how Jim Myers starts our conversation. Effective and responsible management has become the core of VEON's corporate culture today: "Our clearly defined values ​​are supported by robust controls and a robust compliance framework."
"The geographical distribution is an important one: our operating companies offer communication and digital services in ten national markets spread across Africa, Asia and Europe. The Board of Directors of our parent company, led by Mrs. Ursula Burns, consists of 12 people from the United States, Europe and Asia. You can imagine that the communication between the management and our board, but also between the board members themselves, represents a huge logistical challenge every time due to the large distances and the different time zones.
Moreover, we are listed on both NASDAQ in New York and on Euronext Amsterdam."
How do you use Diligent in your position? What was the reason you chose Diligent?
VEON chose to use Diligent Boards combined with Diligent Declarations to make excellent and efficient communications and information sharing possible.
"Paper board packs simply were not efficient any more. The Diligent platform for the distribution of material among our board members received an excellent reception and a smooth introduction. After that, our Nominating and Corporate Governance Committee urged us to investigate how we could facilitate communication with our board members elsewhere and how we could further reduce our administrative burden."
From creating board packs to running board assessments and Declarations questionnaires, Jim uses Diligent products on a daily basis to streamline a variety of governance processes. Yet it's not just the Associate General Counsel who reaps the benefits; Jim has successfully onboarded directors and board members who are able to save valuable time with Diligent's easy-to-use platform. This is VEON's interpretation of practicing modern governance.
What does modern governance mean to you?
"For me, modern governance means that our directors receive the right information at the right time, so that they can fully concentrate on their substantive duties. They really do not have to worry about the underlying processes to provide them with all the data in a timely manner. Thanks to the strong time-saving technologies, I can fully concentrate on the content that the directors need."
Which Diligent products have helped you on your modern governance journey?
"Diligent Declarations has made our annual process much more efficient. Now we can digitally manage our administrative compliance data in one location. Our directors used to fill in the questionnaires by hand. After deciphering their handwriting, we first had to consolidate the answers in an Excel spreadsheet. Thanks to the electronic questionnaire, we can now fully focus on identifying and addressing their substantive comments. It is also much easier to meet annual reporting deadlines.
Diligent Evaluations has enabled us to completely change our Board self-evaluation process. The previous evaluations were an administrative challenge. Now all directors are satisfied with the process and the ease of use of the tool. They participate without a problem and they even expect that the process will immediately provide useful insights. Our analytical skills have also been improved because we can now manage our own reports. That gives us more flexibility when analysing and interpreting data. "
We would like to thank Mr. Myers for his participation in this interview and congratulate him again on being recognised as an exceptional leader in the Modern Governance 100.
Board Portal Buyer's Guide
With the right Board Portal software, a board can improve corporate governance and efficiency while collaborating in a secure environment. With lots of board portal vendors to choose from, the whitepaper contains the most important questions to ask during your search, divided into five essential categories.