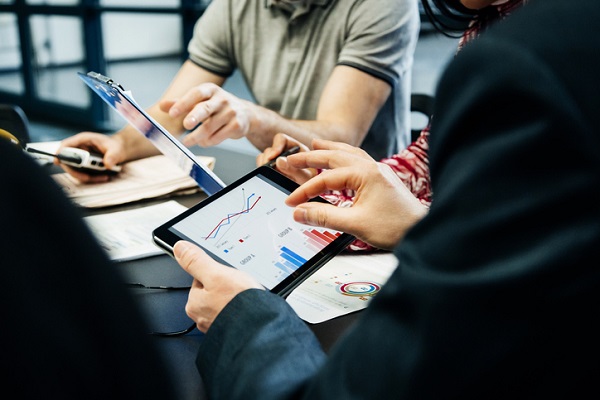 UK Board Directors Still "Grappling With Technology"
It is somewhat ironic that UK board directors today have a vast choice of IT equipment and board software, yet surveys report that they are "still grappling with technology."
"What keeps directors awake at night is the fear of being left behind, of being caught napping by technological advances. So, asked which skills or knowledge they believe their board needs more of, the two dominant answers relate to technology – 57 per cent [are] for new/emerging technology like artificial intelligence, and 34 per cent wanting more expertise in technology infrastructure," the survey reveals.
So, board directors are ready to consider all sorts of cutting-edge stuff – movable office walls, fixed HD screens, remote-controlled presentations, etc. – perhaps without really understanding its drawbacks and limitations, as experts at the London-based consultancy Ethical Boardroom point out. Sure, using sliding walls to configure meeting rooms sounds great, but do these rooms provide a comfortable place to sit? Do fixed HD screens connect up to your tablets without difficulty? Can the presentation display read the document from your Mac? These kinds of things can often throw a monkey wrench into carefully planned meetings.
Learn 'How Board Directors Can Lead the Digital Transformation in the Boardroom' with this white paper.
Is Board Software and Board Technology Secure?
Ideally, board members should manage technology from the top. But board directors should consider boardroom technology issues more serious than just HD screen size. They have to be certain that, whatever new board technology they adopt, it is secured against cybercriminal attacks.
It is imperative for boards to understand board of director cybersecurity threats and how they should be protected – this is a vital part of the board's role in overseeing cybersecurity throughout the organisation, and to understand how the organisation is providing protection to that data and to those who access it.
Board software and secure communication should be a high priority on any board. Free board management software is risky and doesn't have the kind of top-level security that a secure board portal offers.
But how can board directors be certain that their board technology choices are secure? The "Definitive Guide to Cybersecurity for Directors and Officers" recommends the following:
"Invest in security before investing elsewhere. A well-controlled environment gives you the licence to do other things;
Great and innovative products and services will only help you win if you have a well-protected business;
Don't leave the details to others. Active, hands-on engagement by the executive team and the board is required. The risk is existential. Nothing is more important; and
Never think you've done enough. The bad guys are smart and getting smarter.
They aren't resting, and they have more resources than ever. Assume they will attack.
Board directors can learn to understand cybersecurity issues, even if they do not know all the fine points of the technology involved. A grasp of how threats operate, along with an understanding of the risks related to a given piece of technology, together will enable board members to make safe board technology choices.
Most board directors did not become leaders by virtue of their tech expertise. "But successful leaders understand the need to assess organisational risk and to allocate resources and effort based on prioritised competing needs. Given the current threat environment and the math behind successful attacks, leaders need to understand both the value and vulnerabilities residing on their networks and prioritise prevention and response efforts accordingly," the Guide says.
Why Do Cybercriminals Attack the Boardroom?
The boardroom needs to protect its technology, because board members are a high-profile target for cybercriminals, explains CIO magazine.
"Board members and senior executives are among the favourite targets of malicious hackers and other bad actors, in part because they are more likely to hold valuable information — or have a high level of access to such data. They are targeted for their access and influence within organisations, especially those whose purview includes sensitive financial data or personally identifiable information."
That's why it's so important for organisations to make sure board members and other top executives are adhering to the strictest data protection standards and are using appropriate security technologies whenever possible, including when they are travelling.
While it's possible to brief board directors about cyber threats, it is far more effective to put technological controls in place in the boardroom that offer seamless protection. "For instance, the mail server needs to make it mandatory for smartphones to have encryption enabled and password lock enabled in order for access to corporate email to be allowed. If the executive — or any other user — disables the password lock, email access is automatically removed," the article suggests.
This kind of technological control, with the highest possible level of security, is available in Diligent board software.
Diligent's Secure Board Technology Protects Boards From Threats
"Carefully protected internal communication services centered on security and privacy are the safest way to conduct internal communication," the Forrester and Diligent study noted.
Diligent, as the long-standing market leader for high-level corporate communications, is uniquely positioned to offer its clients the highest level of assurance around security measures. Diligent's unique position in the marketplace allows for investment in best-in-class security practices at a level that is greater than most players' annual revenue.
With ongoing investment and dedication to security technology, resources and infrastructure that no other provider can match, Diligent clients gain a strategic partner that truly puts security first.
All members of Diligent's Security Team participate actively in the information security community in order to maintain up-to-date knowledge and expertise. This means that they are aware of nearly any strategy that hackers have available, ready to thwart all of the most sophisticated techniques of attack.
Diligent's Board Management Software  – Keeps You Prepared For Threats
Diligent has established a security program based on industry standard frameworks that is dedicated to ensuring customers have the highest confidence in its custodianship of their data. Diligent's Information Security Management System (ISMS) is ISO 27001:2013 certified and its cybersecurity framework is based on NIST standards.
Diligent Boards™ data is housed in a world-class hosting infrastructure. Co-location data-hosting facilities are operated at Tier 3 equivalent or higher standards. Diligent owns and operates its own equipment. Data stored by customers in the Diligent board management software solution is not hosted by any third-party cloud providers. Instead, it is stored on Diligent's own secure servers and protected by strong physical security. Access to these data centres is limited to authorised personnel only and verified by two-factor authentication.
Data is encrypted at rest, in transit and on users' devices. The Diligent Boards service supports the current recommended secure cipher suites to encrypt customer data in transit and at rest. Customer data is encrypted at rest on Diligent's storage systems and on the customer's mobile devices that run the Boards apps. Customer data encryption keys are stored in a tamper-proof FIPS 140-2 L3 certified Hardware Security Module.
Diligent has a documented Security Incident Response Program in place to handle security incidents. Incident response procedures are tested and updated at least annually. All incidents are managed by Diligent's Security Incident Response Team. Diligent classifies the event and determines the incident response process. In the event of a security breach, Diligent will promptly notify customers of any unauthorised access to customer data.
 WANT TO LEARN MORE?
Learn how your board can improve their governance and rely on Diligent's dedication to customer performance. Request a demo today
Board Portal Buyer's Guide
With the right Board Portal software, a board can improve corporate governance and efficiency while collaborating in a secure environment. With lots of board portal vendors to choose from, the whitepaper contains the most important questions to ask during your search, divided into five essential categories.