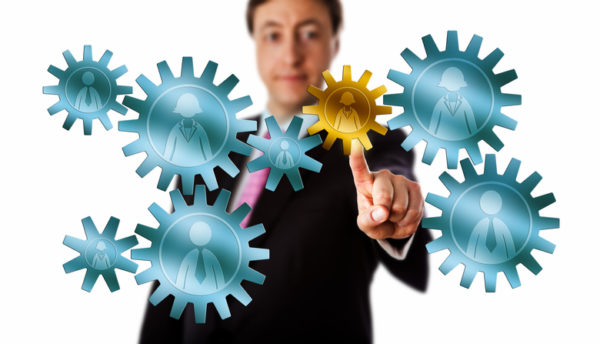 Interlocks can occur between companies, between companies and non-profit organisations, and between companies and entities such as government advisory bodies or think tanks. This reflects the diverse interests and influence of modern Board directors. Interlocking directorates may be direct – when a director of one organisation serves on the Board of another – or indirect – where members of two different Boards serve together on the Board of a third organisation.
Directors who are appointed to more than one Board are known as multiple directors. In the UK, according to the Spencer Stuart Board Index, two-thirds of Board Chairs in the FTSE 150 also sit on other company Boards, and they have an average of 2.7 additional directorships. Some have many more than this. For example, according to Companies House, as of July 2019, entrepreneur Luke Johnson currently holds 23 directorships on listed and private company Boards. This creates direct interlocks between diverse businesses, such as the troubled restaurant chain Patisserie Valerie, and other businesses, such as Brighton Pier Group and Brompton Bicycle Ltd. Luke Johnson is also Chair of the Institute of Cancer Research and of small business support network StartUp Britain, and is on the advisory Board of non-profit think tank the Centre for Entrepreneurs.
This broad portfolio naturally creates a wealth of indirect interlocks, too. However, indirect interlocks are common across the corporate space. For example, insurance competitors AXA SA and Zurich Insurance have an indirect interlocking directorate, as each has a Board member sitting on the Board of Rolls-Royce.
What Are the Benefits of Interlocking Directorates?
The desirability of interlocking directorates has been much debated. In the US, Section 8 of the Clayton Act forbids Board members from serving two companies that are competitive, if a merger between those corporations would violate antitrust laws. However, this provision is not always adhered to in practice. There is no equivalent Act in UK law, although the UK Corporate Governance Code recommends that executive directors of FTSE 100 firms hold no more than one additional non-executive directorship.
There are sound reasons why a company would not want one of its directors to serve on a competitor's Board, not least of which is the risk that privileged information may be exposed. However, assuming a director can build a portfolio of non-competitive directorships, there can be distinct advantages to companies whose directors have broad external interests.
Interlocking Directorates – Perspective, Expertise and Influence
An experienced director who is exposed to a variety of different sectors and business types builds a broader picture of the corporate, social and economic landscape. They bring this perspective into the boardroom to help fellow directors to see the bigger picture and identify macro trends that may impact the organisation.
Once a director has built a reputation in a variety of areas, they are often invited to share their skills and insight with other influential organisations, such as government advisory forums, non-profit boards, think tanks and academic institutions. These connections and the knowledge gained – so long as it is not privileged – may also be advantageous to corporate Boards.
A network of interconnected businesses linked through shared directors could act as a pressure bloc in order to push a broader agenda with government and regulatory bodies. This could help shape pro-business or pro-sector policy and achieve objectives that would be difficult for a single entity to push for on its own. There is evidence of this in sectors that are under pressure from health lobbies, such as alcohol and tobacco companies, which advocate together for government restraint on taxation.
Interlocking Board of Directors
Directors are often invited to serve on more than one Board other than their own company's board of directors, where they serve on another companies board. This practice, and the relationship created, is known as an interlocking directorate. The business ecosystem is a complex and tightly woven network of organisation's and individuals bound by interpersonal and inter-business relationships. In that network, expertise is highly prized and experienced Board of directors are in demand.
Deliberate Interlocks Between Competitors – Benefit and Risk
While, in general, having a director sit on the Boards of two competing businesses naturally constitutes a risk, if the two businesses actually desire to operate more closely, a deliberate interlock could almost act as a merger, but without the associated costs and risks. In this scenario, an interlock may benefit the businesses involved, assuming the information shared bilaterally has value to both, but it may have a negative, and potentially illegal, effect on the market and on the competitive position of other companies in the sector if the information is used, for example, to collude on pricing.
What are the risks of interlocking directorates?
The phenomenon of interlocking directorates could also have undesirable effects on the wider corporate ecosystem. Having directors holding multiple directorships necessarily concentrates corporate power among a smaller group of people. This acts as a brake on improving Boardroom diversity and bringing wider perspectives into the corporate arena. In an environment where more Boards in FTSE 100 companies are chaired by people called David and Steve than by women or people from ethnic minorities, this is a very valid cause for concern. Board diversity is proven to deliver commercial advantages, but having multiple appointments held by a single director limits the opportunity to improve Board composition.
"Overboarding" is another concern. While director experience is highly valued, if it is spread too thinly it can be less effective for the Boards in question. Research released by Harvard Law School found that 70% of firms in its global research had what it terms "busy" boards, with directors holding multiple appointments. The study also found that firms with busy boards demonstrated lower profitability. As the time commitment demanded of Board directors continues to rise, this should be an important consideration when doing succession planning.
Transparency is another concern around interlocking directorates, as their existence and effects are not always visible to stakeholders.
Managing Multiple Board Appointments
Directors on multiple boards must ensure that they serve each Board with the same level of commitment and focus. They must also ensure that the business of each Board is kept separate and secure. The advent of the digital age makes this easier in some ways and higher risk in others.
Board management software helps multiple directors by allowing them to access Board information for each organisation through their preferred device. Information is secured to the highest standards and can be viewed, amended and saved at the Director's convenience. Board evaluation tools and meeting minutes software allow the maintenance of digital records and avoid the risk of paper-based documents becoming mixed up or mislaid, making the digital system more secure and reliable than its analogue predecessor.
On the other hand, it is now worryingly easy for Board members to inadvertently send information to the wrong recipient via email. Auto-completed email address fields increase the risk that documents from one Board could be sent to directors from another. This risk could be eliminated by the use of secure file-sharing and secure messaging tools, which enable communication only with the other directors on the Board in question.
Diligent's Nomination and Governance Application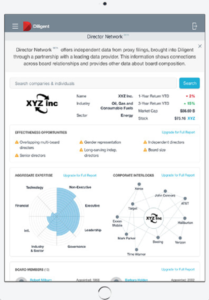 The phenomenon of Board interlocks will continue as demand for skilled directors continues to rise. Boards need to pay close attention to the risks and benefits of interlocks when undertaking succession planning, identifying relevant outside interests and evaluating their potential impact on the organisation before shortlisting candidates.
Diligent's Nomination and Governance application provides the largest global governance data set for boards to stay up to date, identify opportunities, board succession planning and reduce governance risks – and is integrated directly into your Diligent Boards platform. Nomination and Governance committees can gain instant insights into their board's composition, benchmark against competitors, and support their executive search firm to identify potential candidates. All in just a few clicks.
Board Portal Buyer's Guide
With the right Board Portal software, a board can improve corporate governance and efficiency while collaborating in a secure environment. With lots of board portal vendors to choose from, the whitepaper contains the most important questions to ask during your search, divided into five essential categories.