Today's board members, company secretaries and governance professionals are expected to manage critical issues like cyber risk, regulation, culture and ethics alongside the constant pressure to drive business performance.
Diligent commissioned Forrester Consulting to evaluate global executive board governance practices. After conducting a survey targeting governance professionals across 11 countries, we found that board members and governance professionals are practicing some shockingly dangerous practices-leaving boards open to a potential barrage of cyberattacks.
What's inside?
Learn the challenges boards face to achieve end-to-end digital governance
A checklist to improve governance practices for your board
Find out how you stack up against the rest of the globe in adopting technology into your workflow and end to end governance management
Take a sneak peak of the data:
'Usage of personal email for board communication'
Technology is an ever-present medium in the boardroom and misuse of technology in the boardroom can put your organisation at risk. Usage of personal email for sensitive board communication was high at 51% in EMEA, North America at 53% and 40% in APAC.
Can your technology provider ensure that your data is protected with a lost device?
Lost devices and misplaced board books are the most common security breaches for board members. Nearly 30% of board members lose or misplace their phone, tablet or computer in a given year. Without the right tool that offers the ability to "remotely wipe" a device, boards risk exposing confidential information to the public domain or people with malicious intent.
'What's your biggest fear?'
Boards mostly fear allegations of fraud or corruption, cyber incidents and compliance violations being discussed publicly.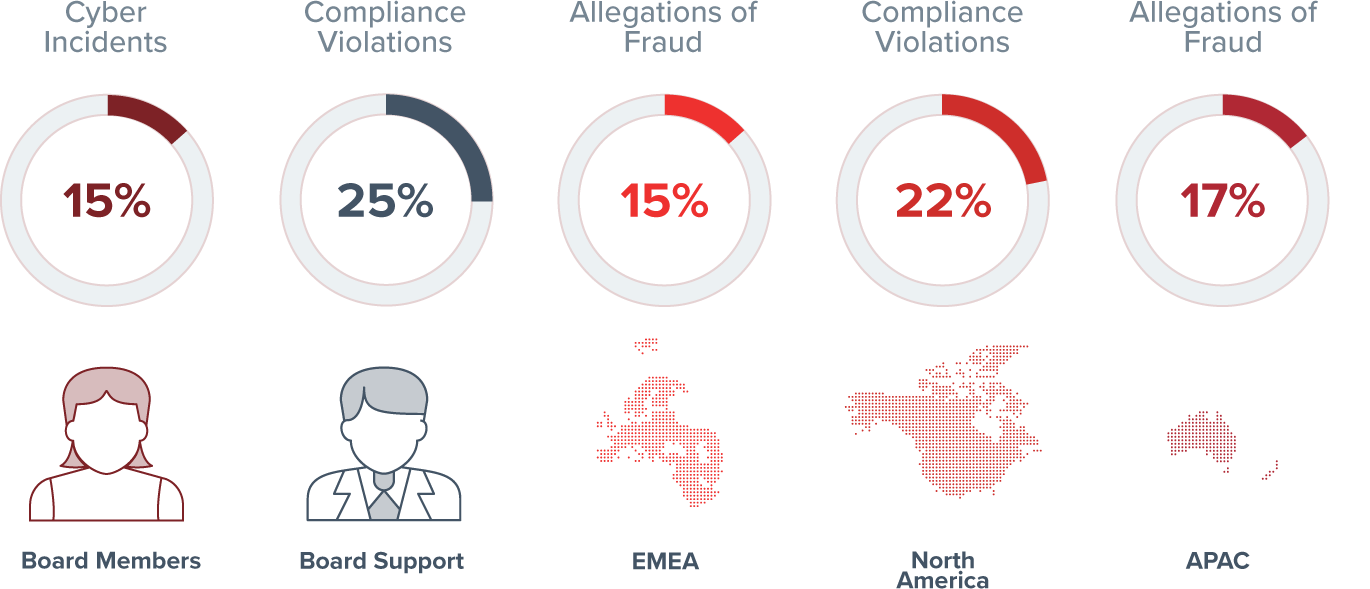 15% of boards are concerned about cyber incidents
Cyber incidents and compliance violations ranked as the highest areas of concern due to lack of visibility and technology gaps. This is compounded by the unease board members have with the mishandling of personal data.
'Boards use many types of technology to manage their board meetings'
In today's boardroom, even with the risk of cybersecurity, boards still use unsecure personal email and PDFs to manage their board meeting documents. Only 1/3 of boards are using virtual data rooms while 1/3 are still using paper board meeting documents, which pose several risks including being lost or stolen.
'Less than 1/3 of governance responsibilities are being easily solved today using board management technology'
45% of governance professionals, which includes board members, general counsels, corporate secretaries and investor relation staff, believe that their compliance requirements are being met. 42% believe that technology streamlines board collaboration. However, only 36% believe that technology alleviates confusion, which means that proper training still needs to be conducted to get the most out of board management software.
Download the report to view a checklist to improve governance practices.