White Papers
2020 Outlook: The State of Modern Boardrooms
What's on the road ahead for UK boardrooms?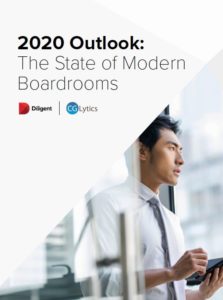 In the first report of our 2020 Modern Governance Series, Diligent has partnered with CGLytics, the leading provider of governance data and executive compensation tools, to examine the current landscape and the challenges and opportunities ahead.
Which landmark events, regulations, and crises have set the tone for 2020?
What's on the road ahead for UK boards and companies?
Which thought leadership topics will Diligent tackle this year as part of the Modern Governance Series?
Download this report to learn more!