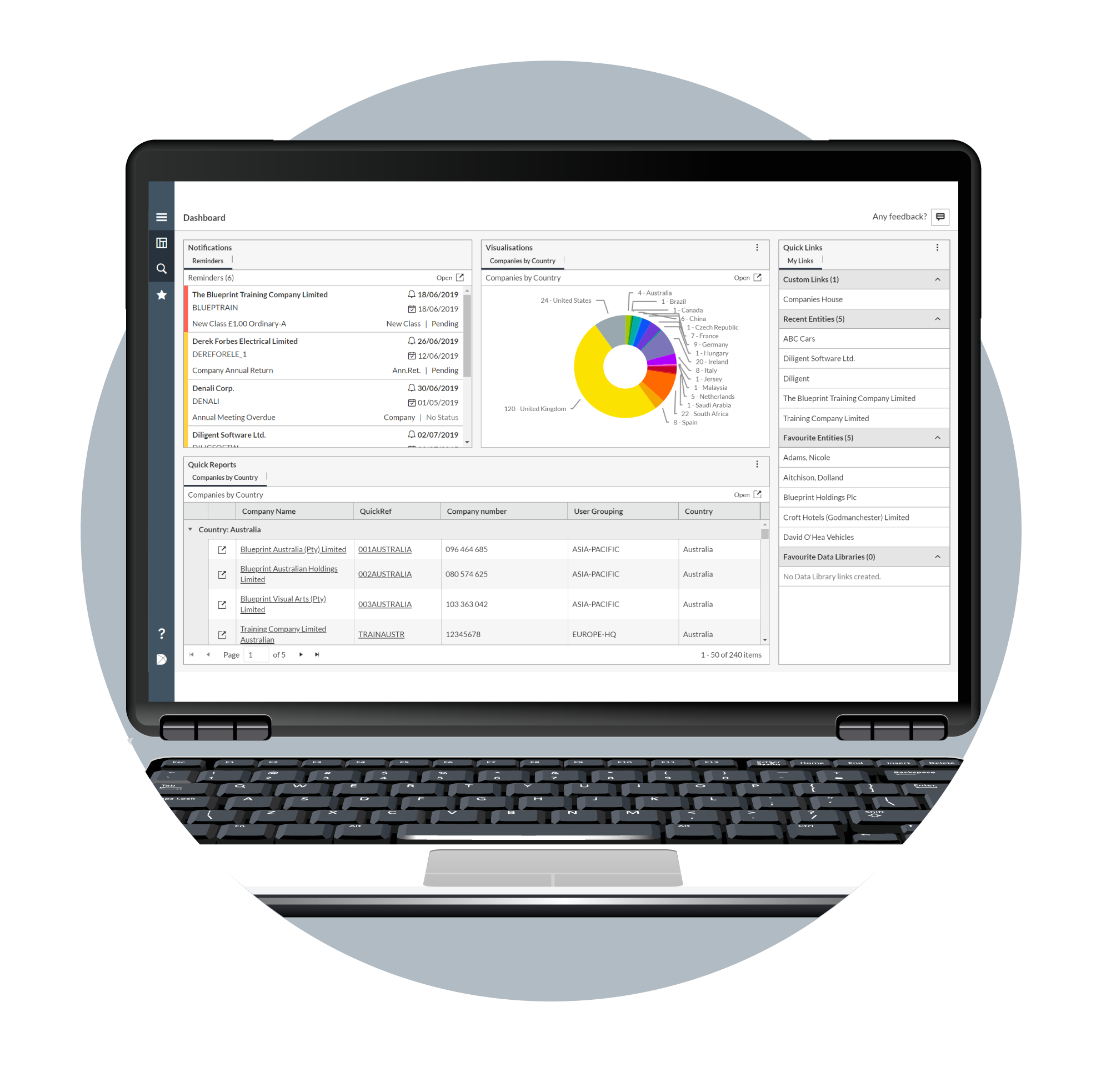 Entity Governance Management
Diligent Entities helps organizations to centralize, manage and effectively structure their corporate record to improve entity governance to better ensure compliance, mitigate risk and improve decision making through an integrated governance solution.
Store entity information, documents and organizational charts in a highly secure format to create a single source of truth
Manage the ongoing accuracy of the corporate record using compliance calendars, reminders and workflows for better data
Surface the right information, to the right people at the right time in order to complete routine business processes
Report on governance and compliance requirements and electronically file statutory forms into global regulatory bodies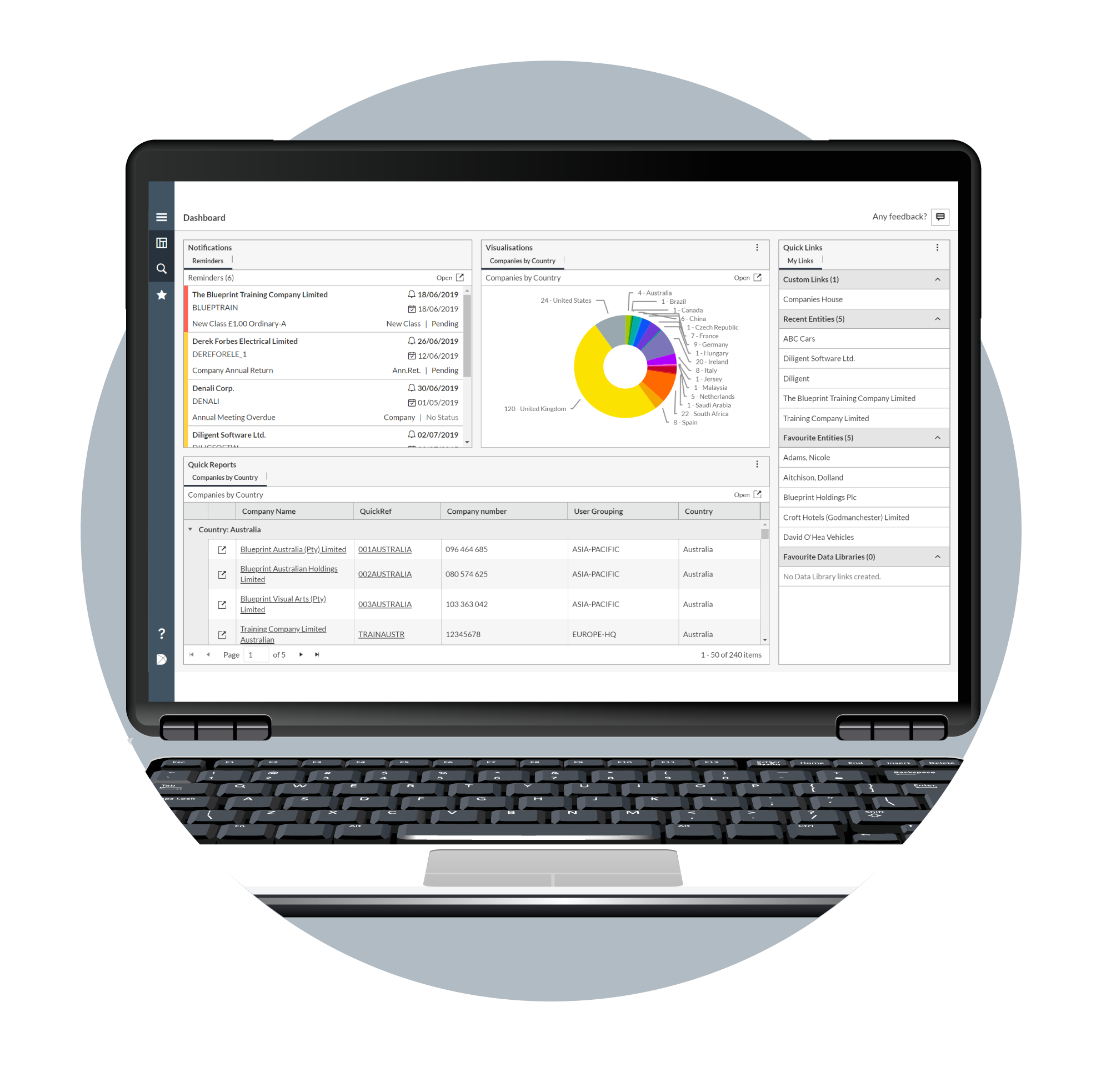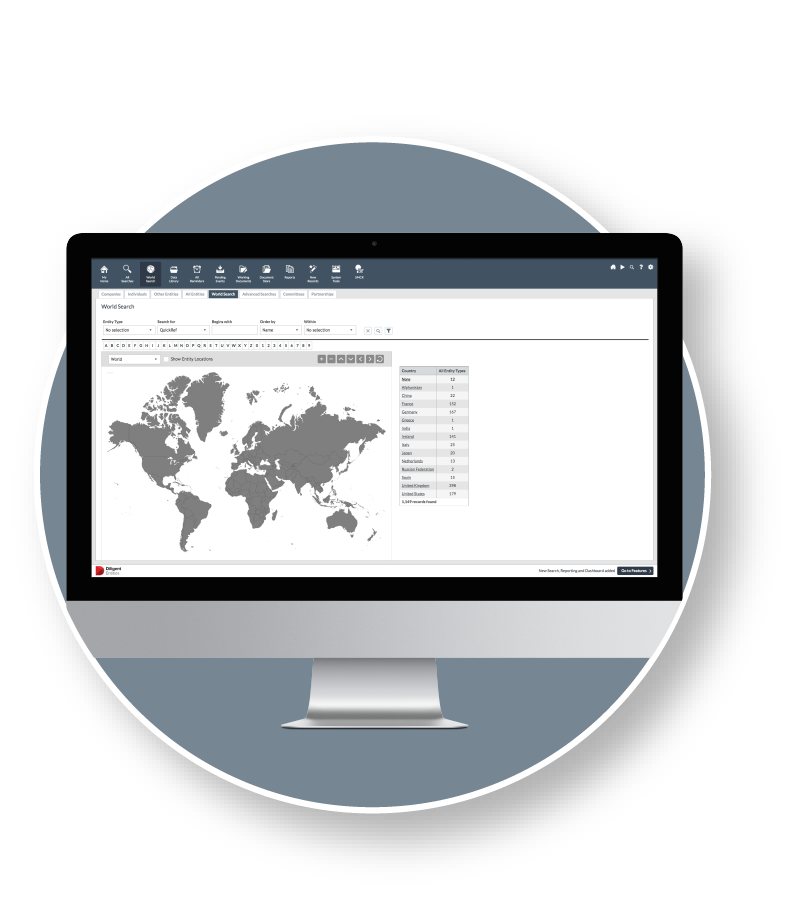 Advancing Entity Management to Entity Governance
Entity management data sits at the epicenter of several necessary business processes that help legal, tax, finance and treasury to maintain compliance. Only Diligent provides an integrated entity governance solution to fuel good governance practices across multiple business units.
Integrate data from multiple business units like legal, tax, finance, treasury and compliance in a single system of record for all your corporate governance needs
Diligent Entities seamlessly plugs into the rest of the Diligent eco-system and is the only full governance technology available
Easily and efficiently file necessary forms electronically to specific regulatory bodies within applicable jurisdictions across the globe
Integration between Entities and the rest of the Governance Cloud ensures your most critical entity and subsidiary information is securely conveyed to those who need it, whether that is the board or auditors and regulators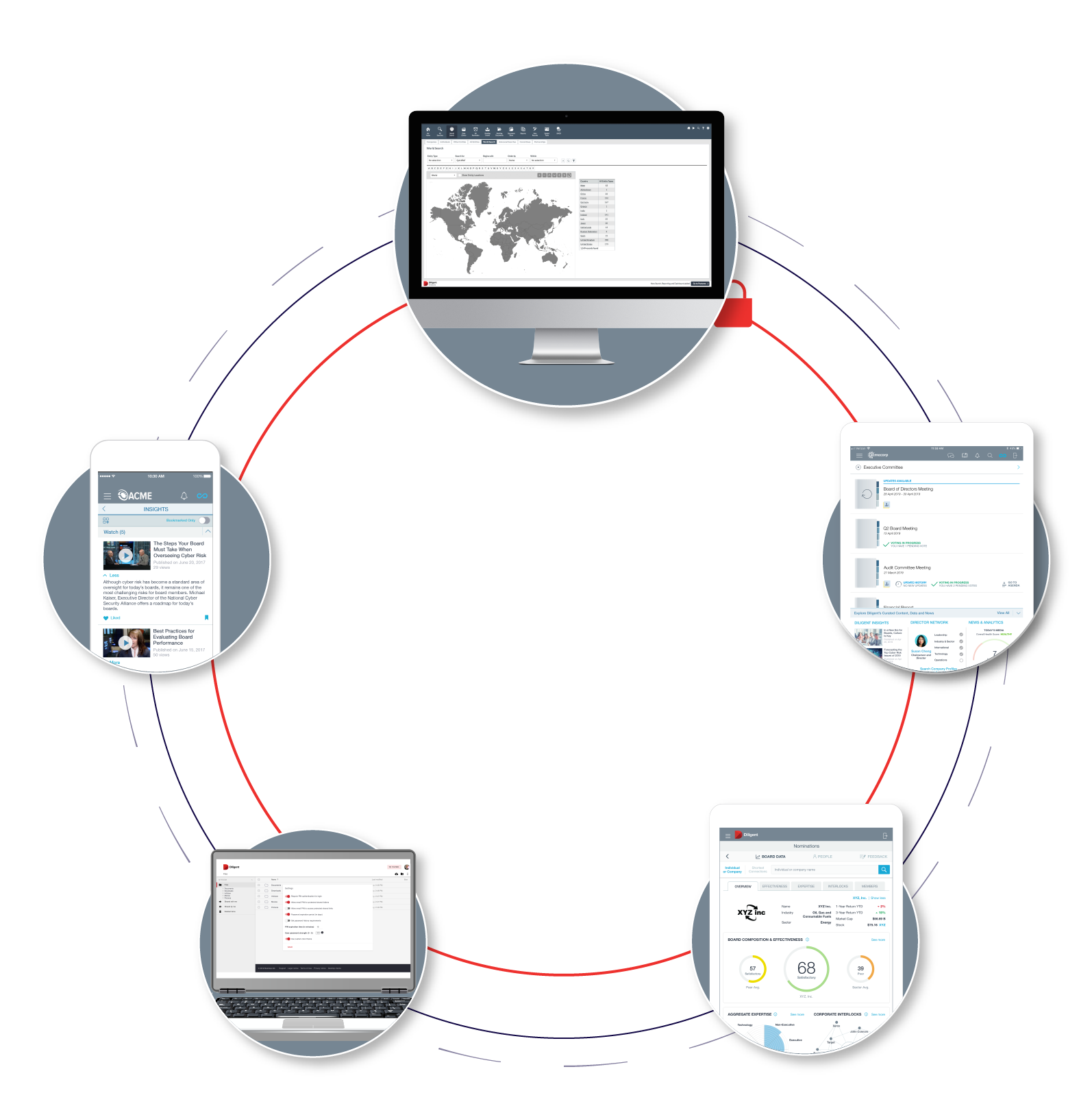 Modern Governance: Delivering the Right Information at the Right Time
Modern Governance is the practice of empowering leaders with technology, insights and processes to fuel good governance that organization require to thrive and endure in today's fast paced world.
In a constantly moving business environment, having the right technology infrastructure for your organization can better allow you to create a single source of truth to meet governance challenges head on
With Diligent, your organization can gain a competitive edge to improve governance by having the right information, analytics and insights to spot risks, act on opportunities and turn insights into action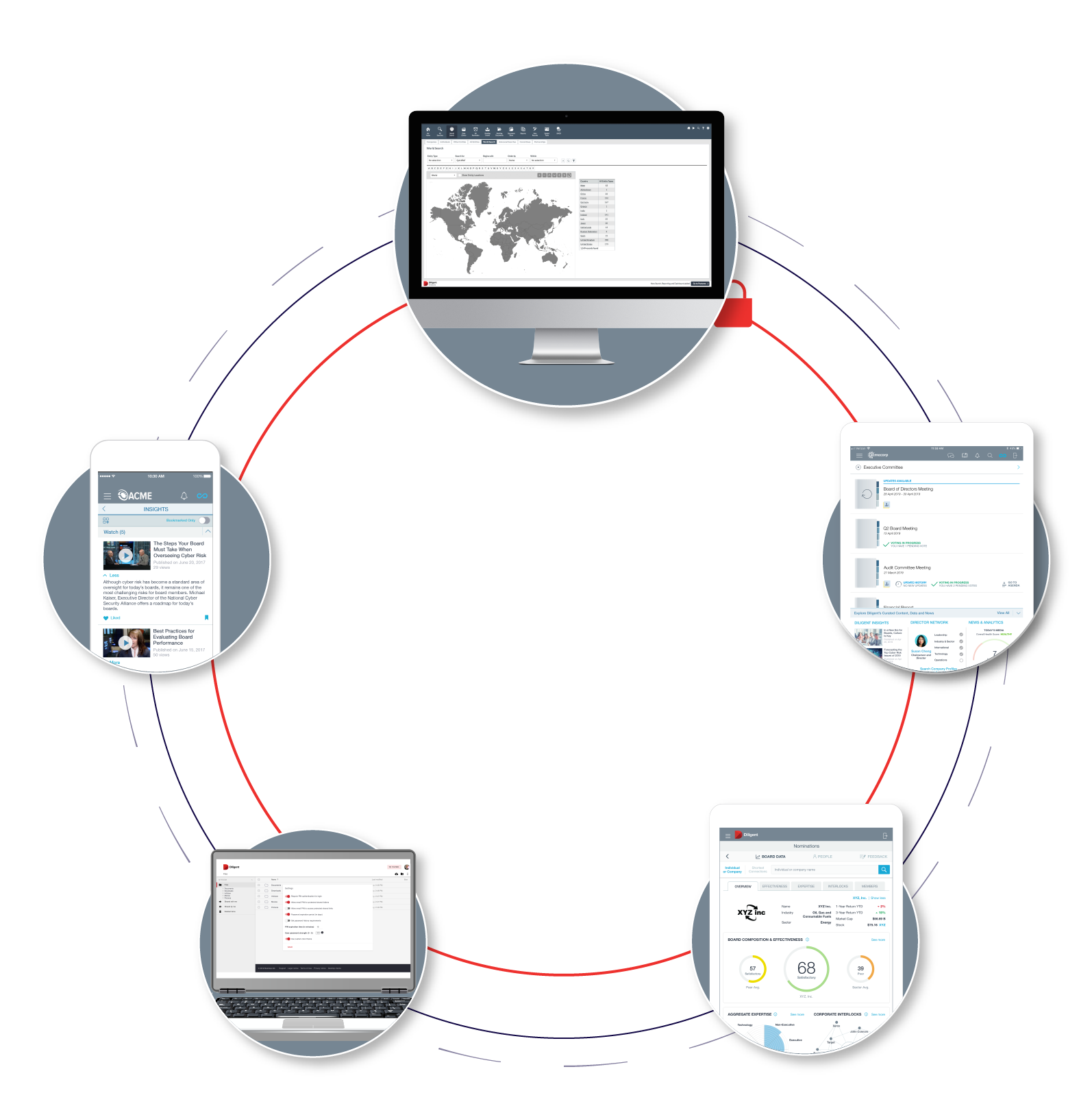 Modern Governance: How Innovative Businesses Stay Compliant
At Diligent, we empower board leaders and executives with the technology, insights and processes their organization needs to govern, endure and thrive in the digital age.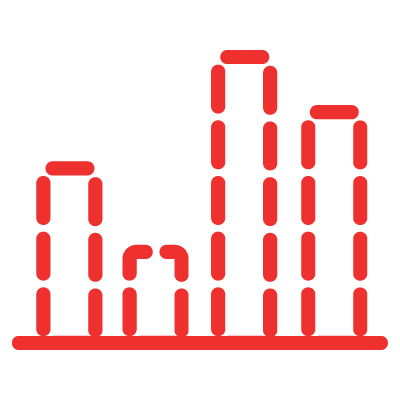 Modern Governance
Leader in providing board of directors with the right technology, insights and analytics to improve board governance and stay ahead of the speed of business.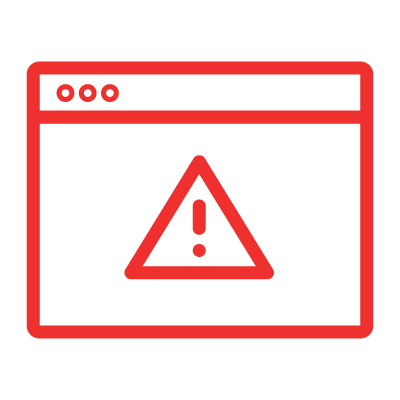 Security
Diligent's products are backed by the world's leading security standards with secure data centers located within your region or country.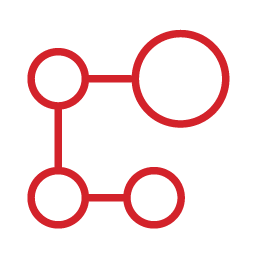 Adoptability & Functionality
A product that is available across every device and operating system that is easy to use, intuitive and is supported by on-site, one to one training sessions to ensure your board is prepared to meet today's modern governance challenges.
Schedule Some Time to Learn About Entity Management Software