Kezia Farnham
Senior Digital Content Manager
Business resilience vs. Business continuity: Overlooked differences you need to know
January 29, 2021
•
0 min read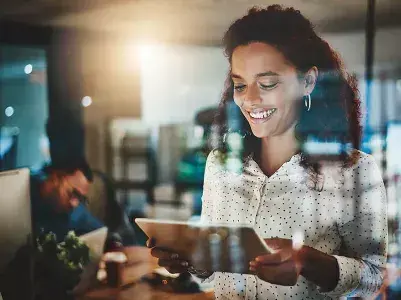 Much has been said about resilience throughout COVID-19 ' including the resilience of supply chains, our health or our organizational cultures. Yet, admittedly, there is still confusion over the meaning. And further confusion over business resilience vs. business continuity. So, what's the difference and do you need both? Let's start with business continuity.
Defining Business Continuity
Business continuity is your organization's ability to continue operations if struck by an unexpected incident or crisis and the process of doing so.

Business continuity planning is essential to this. Much has been written, from us and others, on the need for a best practice business continuity plan to underpin your operations. You should regularly review the procedure, test and update the plan, and finally, support it by establishing the right team and approach.

While business continuity definitions and strategies may vary, there is a firm agreement that having a plan in place is vital for business continuity in the event of an interruption. Having a business continuity plan protects your people and assets while also allowing your organization to function no matter what it may encounter.
What Is Business Resilience?
According to ISO 22316:2017, organizational resilience is: 'The ability of an organization to absorb and adapt in a changing environment to enable it to deliver its objectives and to survive and prosper.'

Resilience, then, is perhaps more about adapting to changing conditions that are expected to continue ' i.e., the need for businesses to continually improve to keep pace with a business landscape that is always evolving. And less about the immediate response to a crisis.

Often, though, the terms 'business resilience' and 'business continuity' are used interchangeably, both being used to describe an organization's short-term actions in the event of a disruption. FmLink, for instance, describes organizational resilience as: 'the ability to rapidly adapt and respond to business disruptions, safeguard people and assets, while maintaining continuous business operations' ' a description that might tally with others' definitions of continuity.
Our Take on the True Meaning of Business Resilience
When we talk about business resilience, we're talking about an organization's ability to respond to and withstand the challenges of an increasingly uncertain world. Business resilience ' or business resiliency, as it's sometimes termed ' is an essential attribute. Without it, organizations will struggle to recover from unexpected business interruptions or change course responses to sudden changes in their operating environment.

Conversely, the ability to swiftly adapt to changing circumstances will put a business in a strong position to minimize any negative impact and capitalize on any opportunities that result. 2020 and 2021, of course, brought this ability into sharp focus, as organizations in all sectors pivot to deal with the challenges posed by the coronavirus pandemic.

Whether it was an almost-overnight move to remote working, a need to adapt to unreliable supply chains, or either drastically increased or drastically reduced demand for products or services, almost no area of business or public service was untouched by the pandemic.

Resilience was indispensable here. Equally important was the need for business continuity ' the ability to maintain operations in the face of disruption. But what is the difference between business resilience and business continuity? Do you need both a business resilience plan and a business continuity plan? And if so, what are the differences between the two?
Business Resilience vs. Business Continuity
Resilience and continuity are often pitted against each other as opposing strategies. But in fact, 'business resilience vs. business continuity' may be an unnecessary rivalry. There's a strong argument that successful organizations need to demonstrate both resilience AND continuity.

A BMC.com blog details some of the things needed for business resilience, among them:
Behavior that is aligned with a shared vision and purpose
Ability to absorb, adapt and effectively respond to change
Good governance and management
Diversity of skills, leadership, knowledge and experience
Coordination across management disciplines and contributions from technical and scientific areas of expertise
Effective risk management

While, arguably, these are also all a bonus when it comes to business continuity, it's clear that some of the above are broader in scope than crisis response. The need for a shared corporate purpose, for instance, and the need to adapt to ongoing change, transcend the immediacy of disaster planning.

Organizations need both the ability to ensure continuity in a crisis and run a resilient business that can evolve in line with longer-term trends and shifts.
The Key Elements Underpinning Both Resilience and Continuity
Business resilience and business continuity are like a Venn diagram, with some common elements connecting them. For instance, the need for strong governance; a clear picture of your entire organization, including all the entities and subsidiaries you're responsible for, across all locations; an adaptive nature; and the necessary people, expertise and technologies.

Underpinning all of this is one thing ''' there's a need for a clear and comprehensive understanding of your organization. Any business that tries to devise a business continuity plan, or resilient approach, based on incomplete data or inaccurate information is doomed to fail.

On the other hand, accurate, up-to-date entity data helps with regulatory compliance and better prepares businesses for significant processes like going public. It is vital to both resilience and continuity; the integrity of entity data is an essential building block in any corporate strategy that needs to capture the entirety of your organization.

Best practice entity data management is more easily achieved when you have a '''single source of truth,' a central repository for all your entity information that supports accuracy, currency and compliance. Diligent Entities not only provides this but also integrates with the rest of our software suite, including Diligent Boards, to provide a 360-degree view of your organization's structure, strategies, documentation and obligations.

So when it comes to business resilience vs. business continuity, remember, both are essential. Get in touch and request a demo to find out how Diligent can equip you with a robust solution for all your governance needs.
security
Your Data Matters
At our core, transparency is key. We prioritize your privacy by providing clear information about your rights and facilitating their exercise. You're in control, with the option to manage your preferences and the extent of information shared with us and our partners.
---
© 2023 Diligent Corporation. All rights reserved.