The Diligent team
Content team
Entity data management best practices
January 10, 2020
•
0 min read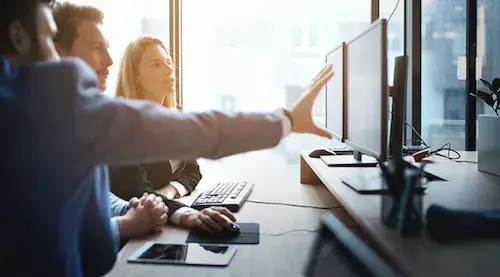 The beauty of today's technology is the number of insights it can give us about anything and everything. In the case of business operations, we can get data on all manner of processes, from financial performance to employee absences to stock market trend predictions and more – so many data points, so little time.
In fact, today's business analysts are drowning in data, yet starved of the insights needed to really shift the needle on business strategy and performance. Stakeholders and shareholders keep demanding more and more information on how things are going, but there is little time and expertise to sit back and truly interrogate that data to glean meaningful and actionable insights. Just presenting figures is not enough; for entity data to be strategically useful, it needs analysis before being presented to senior management to aid decision-making.
But managing entity data is not just a matter for appeasing shareholders. With the increase in the volume and complexity of regulation, General Counsels, company secretaries and the wider legal operations teams are needing to track more and more data points – each of which must be tracked across all subsidiaries, while the organization also ensures it can demonstrate to regulators that they are in control of its security at all times.
Entity data management has never been a simple job, but today's compliance and governance professionals require a team of analysts and a mass of spreadsheets just to keep up. By working with an entity management solution, these compliance professionals can ease the burden of reporting. Creating a single source of truth can make entity data management more efficient and secure, but even that can be a solution fraught with risks.
Can your entity management solution do this?
Working with Microsoft Excel won't cut it in this modern governance world; only a cloud-based digital entity management solution can connect entity data, documents, individuals, tasks and third-party platforms to manage the corporate record more effectively.
When assessing entity data management best practices and seeking an entity management solution, make sure to demand functionality such as the following.
Regular and automatic data validation
The beginning of effective data optimization is a central system of document management, but it's easy to upload information and promptly forget it's there. A strong entity management solution allows for regular data validation to protect the integrity of the corporate record, which is why many are now digitizing entity data management. As a best practice, a digital entity management solution can enable regular updating, and even reporting using real-time data. This, in turn, gives peace of mind that important business decisions are being made using the best possible quality entity data.
Integrations with other software solutions are key to keeping information current throughout an organization. Entity management platforms that connect to other systems a firm uses, such as HR systems, enable automatic updates when changes are made; users only need to make a change once, and it flows to the relevant connected systems. This reduces redundant tasks and improves data integrity, with details staying consistent across platforms.
Custom fields for immediate report creation
Another reason to move to digital entity management solutions is the enhanced reporting capabilities inherent in such a platform. Unlike with a manual, locally hosted or on-premises solution, entity management software automatically enables report creation within seconds and using data from any custom fields. These custom fields can be created to personalize the software's reports to your own unique needs, enabling quick reporting on what matters most to your organization – not what someone else thinks is important.
Furthermore, some solutions provide administrators controls to require certain fields in records to be filled out on a mandatory basis. These compulsory fields prevent incomplete records from being created in the first place, enabling accurate and comprehensive reporting and tracking.
Access and permission control
Who has access to your entity data? And, more important, exactly what do those people have access to? When you store entity documents on a computer or in a filing cabinet, theoretically anyone can walk in and have a look. Moving to a secure digital entity management solution enables you to control exactly who has access to what, and when. You can take control over user permissions and access and gain the ability to share information securely with other departments, with agents across all your jurisdictions, and with auditors and regulators. You can even set time limits on permissions – for example, if a third party only needs access to one document for a quick review.
Secure information sharing
Emailing important entity documents is fraught with risk – it's too easy for confidential information to be accidentally sent to the wrong person or intercepted by cyber threats. With the cost of a data breach having risen 12% over the last five years, it's clear that organizations need a highly secure means to collaborate and share information digitally without worrying about cybersecurity every time a document is created. Cloud-based entity management solutions can enable secure file-sharing and document collaboration in a much more efficient and secure way than more traditional means of managing entity data.
Visualization of the ownership structure
Finally, it's important for any entity management solution to enable visualization to bring to life the organizational structure. This can help to highlight any potential compliance risks around location, ownership and compliance status. While organizational charts could be created manually, using a digital entity management solution enables these charts to be directly linked to the real-time entity data involved in that visualization. Click through from an entity's entry to get at the data behind the visualization and enable further analysis, or create scenarios based on potential strategic decisions to see the impact across the whole structure. This enables you to optimize the corporate structure through managing entity data.
Elevate entity data to actionable insights with entity governance
Just collecting entity data is no longer enough; organizations must focus on insight and elevating processes to the level of true entity governance.
Insight is how you elevate your entity management role to a more strategic one that contributes to the organization's success.
Entity governance is when you are able to be a strategic partner that creates a competitive advantage by providing immediate access to accurate entity information globally, by jurisdiction, by country or for an entity.
Diligent Entities can be your partner in insight and entity governance. The cloud-based, highly secure entity management software helps organizations to centralize, manage and effectively structure their corporate record to improve entity governance. This, in turn, better ensures compliance, mitigates risk and improves decision making through an integrated governance solution.
Entity data management best practices are enhanced by creating a central repository for entity information, documents and organization charts, with the ongoing accuracy of the corporate record enhanced through compliance calendars, reminders and workflows. Reports can be created in seconds to get a snapshot of the compliance state, with organizational charts linking directly to the relevant entity data.
To further enhance entity data management best practices, Diligent Entities seamlessly integrates with Diligent Boards and a secure file-sharing platform to create the Governance Cloud, an all-in-one ecosystem that links the organization's governance and compliance needs to the relevant documentation and information. Stakeholders can collaborate in the cloud in a highly secure portal to ease the burden of modern governance.
Get in touch and request a demo to see how Diligent Entities can help you with entity data management and maintain the integrity of your corporate record.
security
Your Data Matters
At our core, transparency is key. We prioritize your privacy by providing clear information about your rights and facilitating their exercise. You're in control, with the option to manage your preferences and the extent of information shared with us and our partners.
---
© 2023 Diligent Corporation. All rights reserved.