Guest: TK Kerstetter, Host of Inside America's Boardrooms
Hosts: Dottie Schindlinger, Executive Director of the Diligent Institute, and Meghan Day, Senior Director of Board Member Experience for Diligent Corporation
In this episode:
How did predictions for 2021 stack up? Day, Schindlinger and Kerstetter discuss stakeholder capitalism, diversity mandates, and shareholder activism.
What were the top governance moments of 2021? Day, Schindlinger and Kerstetter discuss the importance of workforce strategy, climate action, and the WeWork decision.
What topics will ascend on board agendas in 2022? Predictions include an increased focus on digital transformation and cyber risk, heightened labor activism, and learning to live with COVID-19.
Summary
In this special end-of-year edition of The Corporate Director Podcast, hosts Dottie Schindlinger and Meghan Day are joined by TK Kerstetter, host of Inside America's Boardrooms to discuss their 2021 governance highlights and predictions for 2022.
How did predictions for 2021 stack up?
In last year's holiday special, Kerstetter predicted a shakeout of shareholder versus stakeholder interests in corporate law. Though we saw no clashes in corporate law here, "We did see the publication of ISO 37000, which was the first international benchmark defining good governance," says Schindlinger.
Day predicted an uptick in race and ethnicity disclosures. She recaps movement in this regard: "Nasdaq got the go ahead from the SEC in August to implement their rule, requiring companies to have at least two diverse board members or to explain why they didn't meet this standard. Meanwhile, in 2020, about 20% of S&P 500 disclosed race and ethnicity. That went up to almost 60% in 2021."
Schindlinger may have had the most accurate prediction: "I predicted that we would have a very active proxy season. Although 2021 was not the high water mark for number of activist attempts, it did set a standard in terms of success of high profile campaigns. We saw big shakeouts with Big Oil this year, particularly the proxy fight between Engine No. 1 and Exxon Mobil."
What were the top governance moments of 2021?
Next, Schindlinger, Day and Kerstetter chose their top "ripped from the headlines" governance moment of the year. Kerstetter focused in on workforce and talent management: "We can't do things the way they used to when it comes to workforce strategy and talent acquisition, because the rules are largely out the window. I'm interested to see what'll happen moving forward." Schindlinger agrees, adding, "4.3 million people left their jobs in the U.S. last year. That's something to take notice of. It was across industries and the globe."
"Changes to workforce and talent strategy ended up being more challenging than we thought. From a board perspective, we have to get creative." -TK Kerstetter
Day chose the WeWork decision and its implications for director email accounts: "The idea of attorney client privilege when communicating via email has been in question for a long time. This should have board members thinking more deliberately about how they're talking to each other. Schindlinger adds, "With any luck, this will be the last year that directors use email to have important conversations. This decision was a clear indicator that this is not the right tool. Instead, you want something purpose-built for corporations that is maintained by corporate secretary, encrypted and properly managed."
Schindlinger chose the UN IPCC report: "For the first time ever, the IPCC report stated that human activity 'unequivocally' causes climate change. Further, we need to stay below a 1.5 degree temperature rise to eliminate only the most dire consequences. We've already done irrevocable damage."
She goes on, "This year, it was different because it felt like a big forehead-slap moment for boards on companies that hadn't really thought about climate action, particularly for industries outside energy or with a more straightforward connection to the environment. We realized that boards really need to get smarter about it, so there has been a mad scramble among those who haven't acted to figure out how they can learn what they need to learn. I think we'll see a lot of movement in this area, especially in terms of education. At Diligent, we're launching a Climate Leadership Certificate program to help directors wrap their arms around this."
What topics will ascend on board agendas in 2022?
Kerstetter predicts that two issues that were put aside during the pandemic will regain importance in 2022: "Next year, I think it'll come to roost that many companies did not address digital transformation and cyber risk adequately during the pandemic. We'll see a resurgence of boards paying attention to those two areas, and how their company can compete. These are critical success factors, so they have to re-emerge despite getting pushed aside in the last 18 months."
Schindlinger discusses how this aligns with research findings out of the Diligent Institute: "In our What Directors Think survey conducted in partnership with Corporate Board Member, directors rated cybersecurity as the most difficult issue to oversee and also the issue they felt the most concerned about confronting a crisis in."
Day believes that heightened labor activism will dominate the board agenda in 2022: "I think we'll see more labor movements as an offshoot of great resignation. People are disappointed with wages, benefits, quality of life and they're going to dig in and fight. We saw an example of this recently with the union that formed at the Starbucks in Buffalo last week. It'll be really interesting to see how companies are going to respond to that, particularly large organizations. We're also seeing headlines about the strike at Kellogg and the issue of replacing those workers and how to do that in the midst of a talent crisis." Kerstetter adds, "The question is, is this an aberration or a movement?"
Ending the episode on a hopeful note, Schindlinger believes that 2022 may be the year that we learn how to live our lives with COVID-19 instead of assuming that the pandemic will go away: "We have vaccines, and the people who are in the most danger have better options in terms of treatment. For boards and employers, hopefully that will mean reopening officers, normal life plus masks, and we get used to it and move forward. There won't be any more massive swings in the economy, shutdowns, and disruptions to every part of life. I hope we finally turn that corner."
Also in this episode…
Kerstetter highlights the uncertainty that comes with administration turnovers in Washington: "We're seeing this challenge in the last five years around the stark swing of political power. When administrations change, it's hard to plan because the two sides are so different. You don't know what environment you'll be in until the outcome is upon us. Depending on the administration, you could have completely different philosophies in the SEC, what's coming for tax policy, and a host of other policy areas."
Resources from this episode: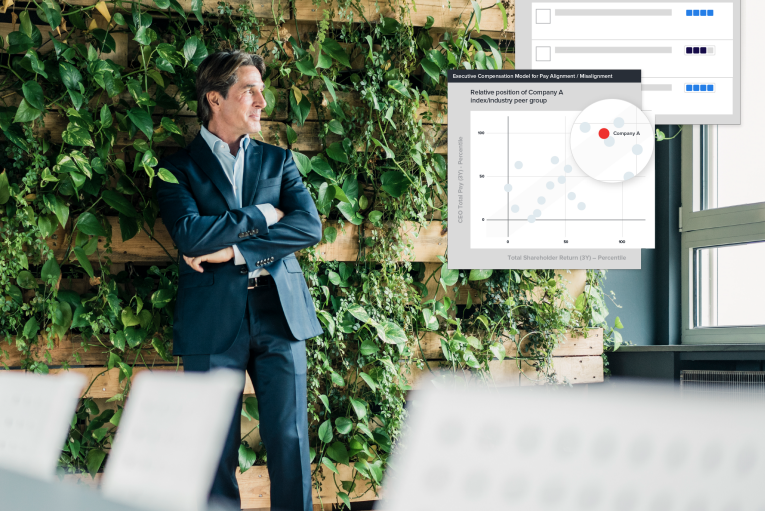 Media Highlights
Environmental, social and governance (ESG) issues have become more complex and multifaceted than ever before. At the same time, ESG continues to ascend on board and leadership agendas.
In this buyer's guide, we explore what a market-leading ESG solution should look like and highlight the key areas organisations should be prioritising as they embark on their search.