Kezia Farnham
Senior Digital Content Manager
6 steps to developing a successful ESG strategy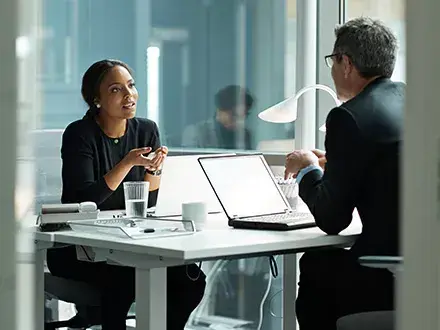 Companies that may not have known what ESG stood for several years ago are now routinely implementing robust ESG strategies that establish how a business will operate to prioritize environmental, social and governance initiatives. An ESG strategy addresses a company's impact on the environment, the communities where it operates and it's broader societal and governance responsibilities.
ESG has now moved from an afterthought to a strategic imperative — and as a result, organizations are elevating their efforts. To help you create an ESG strategy or strengthen your existing one, this article will explain the following:
What an ESG strategy is
The benefits of ESG strategy
How to develop an ESG strategy
Additional resources about the importance of ESG strategies
What is an ESG strategy?
An ESG strategy outlines a business's activities concerning ESG issues. While investors and shareholders want to make money, they also want to ensure companies positively impact the environment and communities in which they operate — a big reason why ESG-related assets are expected to reach $33.9 trillion by 2026.
Championing ESG issues can also benefit the board. ESG policies positively impact equity returns, and 76% of consumers will stop buying from companies that do not treat the environment, their employees or their community well. That is why a strong ESG strategy is vital to hit revenue targets and solidify the business's competitive advantage. 
The benefits of an ESG strategy
The benefits of setting an ESG strategy are numerous. You are improving the environment, taking responsibility for bettering the community where you're based and committing to best practices in corporate governance and compliance.
Don't just look at what the market is doing — you need to think about what is happening with your strategy [on ESG and executive compensation].
— GShai Ganu, Managing Director, Willis Towers Watson
Operating in line with your ESG strategy should: 
Increase efficiency: Paying closer attention to compliance and governance means honing in on the operations that are both ESG-approved and effective, making business activities more efficient. 
Reduce waste: Prioritizing greater efficiency in your ESG strategy reduces waste over time, as does taking environmental impact seriously.
Cut costs: Both more efficiency and more waste can reduce costs because businesses can cut anything that does not directly contribute to ESG and the products/activities that contribute to their bottom line.
Meet regulatory requirements: Many regulatory bodies enforce ESG-related requirements, such as meeting greenhouse gas (GHG) emission limits. Implementing an ESG strategy helps businesses avoid the penalties and reputational damage accompanying poor ESG impacts.
Build ties with your community: To create an ESG strategy, you will need to tap into your community. Businesses that engage with their community also engage with potential customers, suppliers and stakeholders — relationships that can help drive the business forward. 
But it's not all plain sailing. There are also considerations to take on board when establishing an ESG strategy.
ESG strategy considerations
While an ESG strategy has many benefits, not just any strategy will work. Your plan must deliver value — something a recent PwC survey suggests is lacking from many organizations' ESG approaches. It cannot be created in isolation from your corporate goals or without regard to the commercial landscape.
Shai Ganu, Managing Director at Willis Towers Watson, states, "Don't just look at what the market is doing — you need to think about what is happening with your strategy [on ESG and executive compensation]."
Your priorities should align with the following:
Your business strategy
Your sector's direction of travel
Your stakeholders' priorities
Your ESG strategy also needs to consider external stimuli — the introduction of new regulations or legislation (such as the CSRD in the EU), for instance, or pressure on your industry from the media or investors.
6 critical steps to develop a successful ESG strategy
From creating your initial ESG strategy to establishing long-term success
Building an ESG strategy is not easy. While these six steps will put you on the right path, they are only the starting point for creating an ESG strategy that will bolster investor confidence and your bottom line.
Developing strong, effective ESG principles is a long-term effort that starts with the board. Read our ESG roadmap to learn about the ESG metrics, data and activities boards should prioritize to put their businesses on a path to ESG success. 
security
Your Data Matters
At our core, transparency is key. We prioritize your privacy by providing clear information about your rights and facilitating their exercise. You're in control, with the option to manage your preferences and the extent of information shared with us and our partners.
---
© 2023 Diligent Corporation. All rights reserved.