The Diligent team
Content team
The strategic purpose of the senior management team
December 2, 2019
•
0 min read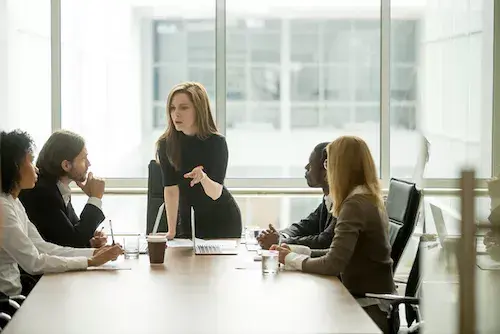 It's common in many corporations to have a large turnover in their senior executive leadership. Most corporations have multiple leaders who serve various functions for the company. Some senior leaders are operational leaders, and some are strategic leaders. The primary role of operational leaders is to manage the day-to-day business operations. Strategic leaders have a variety of key roles and they're responsible for profitable sales growth, increasing market share, implementing change and forming strategic alliances that will help the company achieve its goals.
Some managers transition from operational manager to strategic manager smoothly and without incident. However, not all managers make the transition well and some don't have the characteristics to make it at all. Companies also have some responsibility for whether their managers transition well. Some boards lack the necessary insight into the roles that strategic leaders need to assume to help them transition successfully. Without the proper training, some managers will not be adequately prepared to fulfill their duties.
More executives are starting to recognize the importance of identifying, recruiting and preparing effective leaders. This should be a strong priority for companies that desire to have continuous, strong leadership. Recruiting activities should define and clarity the nature of the roles and the types of skills that executives need to perform well in strategic leadership roles. Proper training and development will help to better prepare leaders for successful advancement.
Strong Competencies of Strategic Leaders
The rapid pace of change in the corporate world requires companies to have effective senior-level strategic leaders who can formulate and executive business strategies to produce positive results. These skills are critical for corporate leadership and are necessary for businesses to survive.
 Certain competencies reflect the most vital and important functions of successful leaders. This isn't to say that senior executives need to be using all these competencies all the time. It means that situations will arise in which they need several competencies at a time. Every situation is unique and will determine the importance of skills needed at any given time. It's also fair to say that the executive team should collectively represent the capabilities across the full spectrum of these roles.
Nine Roles of Strategic Leadership
According to Development Dimensions International, there are nine roles, or competencies, that are vital for strategic leadership. They include:
Navigator. Senior leaders should be skilled in clearly working through complex key issues and problems and should be able to leverage opportunities and resolve issues.
Strategist. Senior executives should be forward-thinking and should be able to work collaboratively with the board in setting goals that align with the organization's vision.
Entrepreneur. Strong leaders have an entrepreneurial spirit. They're always looking for new opportunities for products, services and markets that will benefit the business.
Mobilizer. Executives need to have a vision across the scope of the organization. They need to be proactive in building and aligning stakeholders' capabilities and combining resources for the maximum efficiency in achieving their goals.
Talent Advocate. Leaders should be actively working to develop talent from within the company. Their duties include attracting, developing and retaining top talent to be certain that the company has the right skills and motivations to meet business needs at the right place and at the right time.
Captivator. It's important for senior leaders to have passion and commitment toward the company's goals. It's also important for them to be able to transfer their enthusiasm to others within the company.
Global Thinker. Leaders need to be able to collect information from multiple sources and integrate it so that they can be continually informed in order to optimize the organization's performance.
Change Driver. Strong leaders aren't thrown off course by change — they embrace it. They can easily accept it and move forward and help others do the same.
Enterprise Guardian. As the name suggests, an enterprise guardian looks out for the company's best interests at all times. It's important for leaders to keep shareholder value in mind and to use courage in their decision-making.
Development Dimensions International developed the nine competencies of strategic leadership based on over 30 years of practice and research in the area of executive evaluations. The results were based on analyses by psychologists and input from their clients. These suggested competencies are aligned with those of other thought leaders regarding the roles of capable leaders in today's business environment.
These nine competencies will help senior leaders to address the broader challenges they are sure to face as they transition from managing operations to taking on the challenges of enterprise-wide leadership. Senior leaders must be prepared to increase the span of influence, assess the broader consequences of failure, address the scope of business and be familiar with all stakeholder needs.
Nominating and governance committees will need to assess these skills when recruiting new executives, as well as their knowledge, experience and ability to respond to challenges and crises.
Factoring in Competencies with Succession Planning
Good succession planning will alleviate many of the problems associated with senior executive turnover. It doesn't have to be a painstaking process to find the right senior leadership talent. The National Association of Corporate Directors (NACD) and Diligent Corporation have partnered to develop an innovative tool, called Nom Gov, that empowers boards to embrace modern governance practices with analytics. This digital solution supports highly effective and diverse corporate leadership while reducing reputational, governance and shareholder activism risks. Nom Gov modernizes the corporate boardroom and improves leadership performance by giving boards access to real-time, critical data that impacts board effectiveness and the ability to make data-driven decisions.
Nom Gov enhances succession planning through an extensive, global and diverse database of director and executive profiles. With this the tool, succession planning committees can compare candidate profiles against the nine competencies for effective senior leadership. Nom Gov also makes it possible for boards to view the board's skills and expertise matrix in order to gain insights into their combined strengths and weaknesses. Business moves at a fast pace and it requires a modern approach to governance, which means that leaders are empowered with the technology, insights and processes needed to fuel good governance.
security
Your Data Matters
At our core, transparency is key. We prioritize your privacy by providing clear information about your rights and facilitating their exercise. You're in control, with the option to manage your preferences and the extent of information shared with us and our partners.
---
© 2023 Diligent Corporation. All rights reserved.