The Diligent team
Content team
What financial reports are included in the annual report?
February 19, 2019
•
0 min read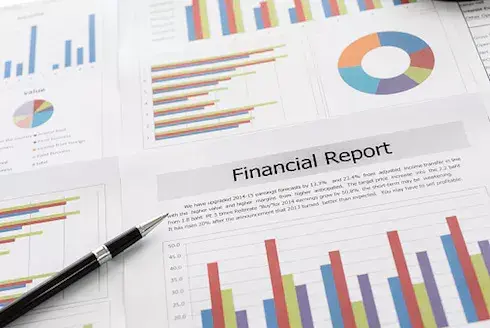 We have only to look at one of the most significant events in our nation's history to appreciate the importance of financial reports. The stock market crash of 1929 signaled the start of the Great Depression that lasted 12 years and brought the Roaring Twenties to an abrupt halt. In response to this devastating event, the U.S. Congress established the Securities and Exchange Commission (SEC) in 1934.
The goal of the SEC is to ensure that those who sell securities are putting the interests of their investors first and that companies are upfront and truthful about the information they provide to investors about their business. SEC financial reporting requirements were developed to protect investors from fraud and unfair sales practices. Since its founding, the SEC has monitored change and growth in the financial markets and added regulations to increase the protections for investors.
What Is an Annual Report?
The SEC requires public companies to provide accurate financial reports that describe their business and financial condition to their shareholders on an annual basis. The annual report begins with an update on the company and ends with current detailed financial information about the company.
The front matter of an annual report usually contains graphics, charts and promotional material about the company. The front page may include the company's purpose, mission statement and a short history of the company. Shareholders may also find a personal message from the CEO or board director at the front of the report, along with a general overview of the company.
By contrast, the back matter of an annual financial statement provides detailed financial and operational information. Companies may also include a basic sales and marketing overview as part of the financial report.
What Financial Reports Do Public Companies Include in the Annual Report?
Company finance committees typically include general corporate information and a summary of the operating and financial highlights in the annual report. The annual report also includes the following:
Management's discussion and analysis (MD&A)
Various financial statements
Balance sheet
Income statement
Cash flow statement
Explanatory notes on financial statements
Auditor's report
Summary of financial data
The company's accounting policies
The annual report should also state whether the report conforms to Generally Accepted Accounting Principles (GAAP). Investors will find this information listed in the auditor's report section under "unqualified opinion."
Additional Regulations and Forms Required by the SEC
Public companies are also required to file Form 10-K with the SEC on an annual basis. Form 10-K is essentially a more detailed version of the annual report.
At annual board director election time, public companies must also send reports to their shareholders. The proxy rules also require public companies to post their proxy materials and annual reports on their websites.
Additional Uses for Financial Reports
While they are a highly informative and useful tool for shareholders, annual financial reports also provide helpful information for prospective shareholders, financial analysts, creditors and others.
Interested parties may use the annual financial report to learn about whether the company pays its debts and if they pay them on time. They can also see whether the company made a profit or incurred a loss during the previous fiscal year and learn more about the company's growth over a number of years. Additionally, the annual financial reports show the amount of earnings that companies retain to grow their operations and the ratio of operations expenses to revenue.
Annual Report of Mutual Funds
The goal of the annual report of mutual funds is to disclose certain aspects of a fund's operations and financial status. Unlike the annual financial report, the annual report of mutual funds is less flashy and more informational. Reports tend to be more quantitative than qualitative. This format is by design to address the mandatory accounting disclosures that are required of mutual funds.
Another type of financial reporting relates to mutual funds. All companies that register mutual funds with the SEC must send a full financial report that shows how well the funds fared during the last fiscal year to their shareholders on an annual basis.
Mutual fund financial reports usually include tables, charts and graphs of holdings by category. Categories may include the type of security, geographic region, credit assessment, type of industry, maturity, etc. The reports also show a list of audited financial statements that includes a summary or list of the top holdings. The report shows a condensed version of the financial statements and may show the fund's returns for one-, five- and 10-year periods.
Senior managers may offer a discussion of the fund's performance in the mutual fund annual report, as well as basic information about managers, board directors and board officers that includes their names, ages, tenures and remuneration.
Shareholders and prospective fund investors utilize the mutual fund reports as a way of reviewing multi-year fund data and performance.
Electronic Software Solutions Support Processes for Financial Reporting
Diligent Corporation established Governance Cloud to assist finance and audit committees in their duties of overseeing financial reports to ensure accuracy and transparency. Governance Cloud is a suite of software solutions that provides a secure platform for committee collaborations and document sharing. Diligent Boards is a program that streamlines processes for board agendas, minutes and compiling board books. Diligent Messenger is a secure electronic communication platform that provides confidentiality for board and committee communications. The products that comprise Governance Cloud are fully integrated so board directors can have complete confidence that their documents and conversations will not be released publicly until they're ready.
In closing, public companies must be diligent about providing the right information and the right financial reports and disclosures in the proper timeframes. Annual financial reports provide the necessary transparency to protect investors and the general public. Regulatory processes are designed to provide stability in the capital markets and to support good corporate governance principles.
When viewed alone, financial statements provide limited information. The full slate of financial reports provides the most accurate, comprehensive view of a company's financial strength. The full combination of financial reports provides the best tool for informed and wise investing.
security
Your Data Matters
At our core, transparency is key. We prioritize your privacy by providing clear information about your rights and facilitating their exercise. You're in control, with the option to manage your preferences and the extent of information shared with us and our partners.
---
© 2023 Diligent Corporation. All rights reserved.