ESG
, now more than ever, is fundamental to the way that EY operates as an organization. Their targets are admirably ambitious ' a commitment to become carbon neutral by the end of 2020, for example ' and it's clear that CEO Carmine Di Sibio intends to meet, and ideally exceed, them.
In this interview with Betsy Atkins, Di Sibio covers a range of topics: the importance of a strategy for long-term value creation, navigating the COVID-19 pandemic, and EY's commitment to protecting and regenerating the environment.
Ultimately, for Di Sibio and EY, ESG is more than just an idea. Success as a business, he notes, 'is about more than our bottom line today; it's about helping those around us thrive in the long term.'
---
Q: Can you tell me a little bit about EY's commitment to long-term value creation and ESG?
A:
At EY, we've long understood that creating value for all our stakeholders is the best way to create a valuable'and viable'organization in the long-term. That's why, over the last year, we've re-oriented our strategy around our purpose, which is to build a better working world for our people, our clients, and society. ESG is very much a part of this. It catalyzes our understanding of the impact we are having on society, on the environment, and on creating more inclusive growth. Ultimately, we know we have a responsibility to address environmental, social, and governance issues, and we are willing to help clients do that as well.
This is one reason why we
partnered
with the World Economic Forum, Bank of America, and our Big Four colleagues to develop the WEF/IBC Stakeholder Capitalism metrics. Together, we established metrics that are both industry-agnostic and grounded in existing standards. So far, we're optimistic about the prospects for widespread adoption across industries, and we are also looking at our own reporting so we can integrate this approach. Metrics help you hold yourself responsible to your commitment to positive stakeholder impact.
Q: How are ESG and long-term value creation connected?
A:
We believe the focus on a strategy aimed at long-term value creation is where we start. We think of it as a three-step process. First, you have to get your C-suite and board aligned on a strategy that drives value for your stakeholders. Second, you have to do the work of transforming your company, and then you demonstrate your impact through measurement, reporting and communication.
Of course, ESG is an indispensable part of the entire process and focuses on understanding impact across a range of critical societal issues ' and how the company is governed to understand and address those issues. ESG helps to keep us accountable. It can drive change across a number of environmental, social, and governance issues ' all of which are important to be aligned with your overall purpose and long-term strategy.
At EY, we've embraced and created our global strategy based on long-term value creation for all stakeholders, by focusing on the value we want to create for our clients, our people, and society. I can give you a few examples of how we are doing this:
First, for our clients, we leverage the whole of our organization to help them navigate uncertain times. This year, we developed the COVID-19 Enterprise Resilience Framework, a tool to help clients evaluate their risks and levels of preparedness to deal with the pandemic. This framework acts as a map, not only showing businesses what they need to do to address immediate pressures, but also what they need to do next' and beyond'to help reframe their future.
Through the crisis, EY teams worked across borders and service lines to re-route EY clients' supply chains, manage liquidity, guide them through government stimulus packages, and advise them on their stakeholder impact. Now, we're holding deeper conversations with clients around helping them to innovate and build resilience for the financial, societal, and regulatory challenges and opportunities beyond the pandemic.
For our people, first and foremost, we ensured their safety. In early 2020 we swiftly invoked travel restrictions and have since put in place comprehensive guidance around meetings, events, and a safe return to EY offices.
We also remain committed to providing stable, high-quality jobs. Despite the disruption caused by COVID-19, this year EY welcomed more than 76,000 new colleagues and honored our long-standing commitment to 15,000 interns around the world. We have also sustained our commitment to training and have offered all of our people a diverse range of skilling and upskilling courses'including a fully accredited MBA program through Hult University.
Finally, for society, EY is focused on creating long-term value through the work we do every day ' fostering confidence and trust in the world's capital markets. This last year we also launched our EY Ripples program, a platform for our employees to get involved in community, entrepreneurial, and broader societal initiatives. We seek to positively impact 1 billion people by 2050, and have designed a system to measure that.
A focus on ESG, and how we measure that, helps us to expand our understanding of our societal and stakeholder impact by taking a deeper look at what we do to impact the planet (such as GHG emissions), people (such as training and encouraging diversity), economic prosperity (through innovation and job creation), and governance (by setting a purpose and addressing stakeholder impact). With the WEF/IBC metrics, we can look at the same set of metrics across our peers and other companies'comparing our progress in areas where that is relevant to do so.
So, long-term value is a more holistic approach for understanding the full value companies create'and ESG is a part of that.
Q: Let's look at environmental impact in particular. EY has put a lot of emphasis on that this year, yes?
A.
Protecting and regenerating the environment is an important issue for all EY stakeholders and essential to sustaining long-term value creation. Experts agree that if we allow climate change to continue unabated, it will have catastrophic impacts on infrastructure, supply chains, and the global economy ' not to mention destabilizing millions of people's lives. Addressing environmental concerns is about preventing all of this and protecting a future where long-term value can continue to be created and not destroyed.
That's why we were proud to be the first global multi-disciplinary professional services organization to commit to carbon neutrality. While we continue to make our most valuable contribution as a leading provider of climate change and sustainability services to clients, the commitment to becoming carbon neutral by the end of 2020 is an important milestone in our own sustainability journey. With COVID, that has been easier to do this year, but beyond COVID, we are committed to 'sustaining the gain' and are looking at efforts to further reduce our emissions.
Alongside efforts to reduce our own footprint, EY Climate Change and Sustainability Services (CCaSS) teams continue to help organizations assess, respond to, measure and report on the most significant resource and environmental challenges they face. In particular, CCaSS teams have assisted clients in the areas of climate risk and adaptation, the circular economy, renewable energy, and water and waste management.
Q: Let's shift gears to society more broadly. Obviously, the pandemic has exacerbated existing racial and economic disparities across the nation. How is EY working to address these?
A.
One of our big focuses is driving shared prosperity. Not only does our country face rising inequality, we're also confronting a mounting skills gap. At EY, we believe we can best address these challenges by ensuring everyone has access to the education and lifelong training they need to thrive in the 21st century global economy. It's in our vested interest to close the skills gap and rectify long-standing societal inequities, which is the impetus behind our recent efforts to expand digital literacy.
Right now, we're collaborating with United Way on an initiative called 'Bridging the Digital Divide.' Through this program, we'll be giving underserved students access to computers and the Internet so they can keep up with the demands of virtual learning and develop the skills they need to succeed over the long term. We'll primarily tackle this issue on a local level. Our Office Managing Partners will work with the regional public-school systems to get students the hardware, connectivity, and guidance they need. We're also doing our part to diversify the professional services sector. EY has joined forces with 26 other leading companies'including IBM, JPMorgan, McKinsey, and Accenture'as part of an initiative known as Jobs Council. The council will expand opportunities for Black and brown professionals in growing sectors like tech and healthcare by hiring 100,000 New Yorkers from low-income backgrounds by the year 2030. We've also pledged that'out of these 100,000 New Yorkers'25,000 will come from the City's public college system (known as CUNY).
Q: Any last comments on the movement toward stakeholder capitalism and the role ESG plays?
A:
It is amazing to see the momentum around stakeholder capitalism and ESG right now. There is buy-in on every part of the value chain: C-Suites and boards know it's important to ask strategic questions and forge a better path forward, and employees and consumers are demanding that they do. And, investor interest is at an all-time high. As of June 2019, $80 trillion of assets were managed under ESG standards'a dramatic increase from the $6.5 trillion in such assets back in 2006.
All that is to say, this is a pivotal moment for business. It's clearer now than ever before that success is about more than our bottom line today; it's also about helping those around us thrive in the long term. CEOs don't have to choose between doing what's good for business and good for their stakeholders. They can ' and must ' do both to create sustainable, inclusive growth in today's world.
_________________________


Operationalizing ESG: A Checklist for Boards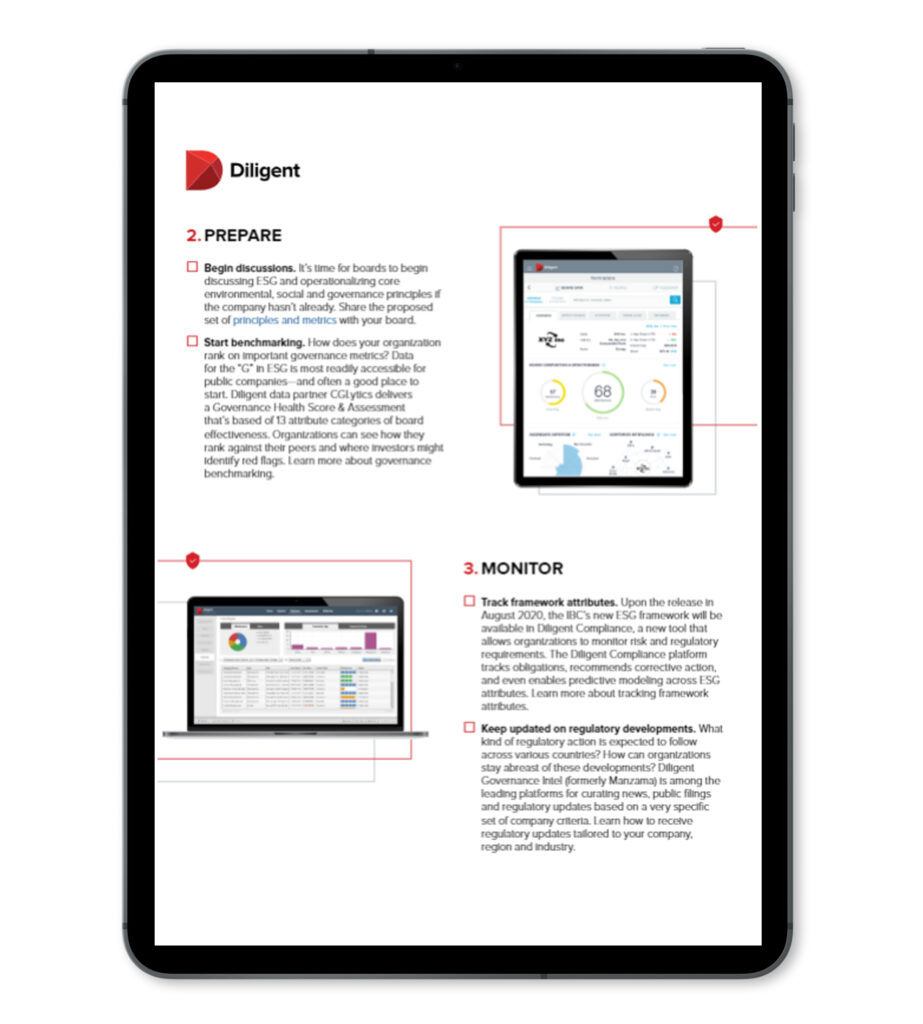 Operationalizing core ESG principles is a journey. While the process involves many stakeholders across the organization, the commitment to ESG starts with the board. In this ESG Roadmap, we offer next steps for boards that are wondering: Where do we go from here?